Home > Store > Web Design & Development
HTML5 Now: A Step-by-Step Video Tutorial for Getting Started Today
Copyright 2011
Edition: 1st
DVD
ISBN-10: 0-321-71991-3
ISBN-13: 978-0-321-71991-1
Register your product to gain access to bonus material or receive a coupon.
Product Author Bios
Tantek Çelik is a computer scientist for Microformats.org and works with numerous clients, such as Mozilla and Revision3, on open Web standards leadership and HTML5 upgrades. Previously, as Chief Technologist at Technorati, he led the design and development of new standards and technologies. Prior to Technorati, he was a veteran representative to the World Wide Web Consortium (W3C) for Microsoft, where he also helped lead the development of the award-winning Internet Explorer for Macintosh. Tantek lives in San Francisco, and has bachelor's and master's degrees in Computer Science from Stanford University, as well as a strong background in human interface and user-centered design from his many years at Apple Computer. He shares his thoughts at tantek.com.
Video
This preview has been compressed for content sampling purposes and is not representative of the high quality and larger screen size of the streaming video available for purchase.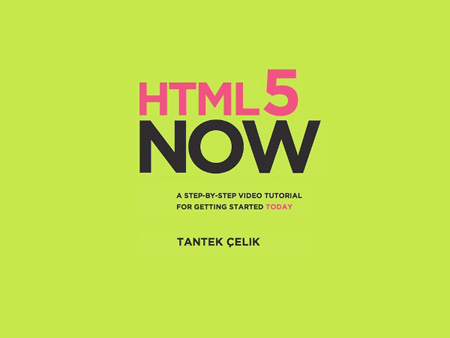 You need to upgrade your Flash Player. You need version 9 or above to view this video. You may download it here. You may also see this message if you have JavaScript turned off. If this is the case, please enable JavaScript and reload the page.
Podcasts
HTML5, touted as the most important change to the Web since the development of CSS, is now widely adopted by browser makers and supported by numerous hardware devices, including Apple iPhone and iPad and Google Android. Because implementation is so new, designers and developers are just cracking the surface as they begin using the markup language in existing or newly developed Web sites, and for designing across multiple platforms.

This 2½-hour training video with supporting 96 page reference guide containing code examples gives you a solid introduction to HTML5 and explains in detail how you can start using it today. Whether you're an HTML standards advocate using mobile devices, a Flash developer wanting to pick up additional skills for your toolset, or simply taking your first steps in HTML5, by the end of this video you'll have the most important information about HTML5 to use it now, including:

The key features that have changed in HTML5 and how to transition from HTML 4 and XHTML

New HTML5 improvements in semantics and interface elements such as forms

Support for native vector graphics, audio, and video
Progressive enhancement techniques that take advantage of new HTML5 semantics while keeping your content compatible
Run time: 2h 43m 47s
Customer Reviews
20 of 22 people found the following review helpful
Excellent HTML4 to HTML5 Intro for Busy Web Ninjas
,
July 28, 2010
This review is from:

HTML5 Now: A Step-by-Step Video Tutorial for Getting Started Today (Voices That Matter) (DVD-ROM)
This dvd + book set turned out to be the "HTML4 to HTML5 transition" resource I was looking for.
Delivered like a screencast, the presenter went through a mix of HTML5 demos, website examples, and general instruction. I purchased this set just to read the book, but put the video on anyway, and was surprised to find myself watching and following along with the book. The presenter is highly-knowledgeable, articulate, and even kept my attention as he went through things I'd normally skip in print - like the history of HTML.
The "reference guide" book is included in BOTH paperback and PDF formats. (Thank you publishers for not making me have to decide which format to purchase!) It has a couple errors in the code examples, and is light in element attribute/object information, but for what must have been a quick rush to print, it's thorough enough to be a standalone book. You can definitely start integrating HTML5 into your code after reading (even if you don't watch...
Read more
7 of 8 people found the following review helpful
My new preferred format for tech reading
,
September 18, 2010
This review is from:

HTML5 Now: A Step-by-Step Video Tutorial for Getting Started Today (Voices That Matter) (DVD-ROM)
The paper portion of this bundle was perfect. The prose was succicnt, the examples were well articulated, and after the quick read, I felt confident that I could upgrade a page or an entire site to HTML 5. I've already lent the book to a coworker who also found it to be a quick, efficient, and informative read.
I've spent days in the past digging through the weeds of 500+ page tech books with walls of text and incoherant examples. (As if the authors were paid by the page.) This book covers a ton of material in a crisp style with ample efficient, complete examples and useful references to relevant websites and validators. I hope that more tech books begin to follow this style.
9 of 12 people found the following review helpful
Great Resource
,
August 28, 2010
This review is from:

HTML5 Now: A Step-by-Step Video Tutorial for Getting Started Today (Voices That Matter) (DVD-ROM)
I see the previous reviewer felt Tantek was dry. I'm sorry, I didn't feel that way AT ALL. He's very informative. He's brilliant. He's been involved in the development of HTML5 (and microformats). Years ago, he led the development for Internet Explorer 5 for Mac--which was an amazing browser in its day--so he's a tech person who knows his stuff. It's sad that people expect to be entertained on a subject like this. I wasn't bored for a moment.
This is a 2 hour video, so it can't be completely comprehensive (for a 900 page spec, neither can the books). It's definitely boiled down to the good parts with enough information to get you up to speed and get your sites converted to (or new sites built in) HTML5--to whatever degree you decide to implement it at this point. Regardless, if you're a visual or auditory learner, this is a title worth consuming. There's a 100 page PDF that accompanies the video. So I watched/listened to the video while I was doing things, and then I had...
Read more
Share your thoughts with other customers:
›
See all 5 customer reviews...
Purchase Reward: 15 Day Trial to Creative Edge
By completing any purchase on Peachpit, you become eligible to try out
Creative Edge
free for 15 days.
Get unlimited online access to thousands of training resources on creative topics. You will also get a discounted rate of just $17.99/month if you decide to continue with a paid subscription.
Other Things You Might Like

By Stephen Hay
Apr 9, 2013


By Stephen Hay
Apr 2, 2013