Home > Store > Apple > Operating Systems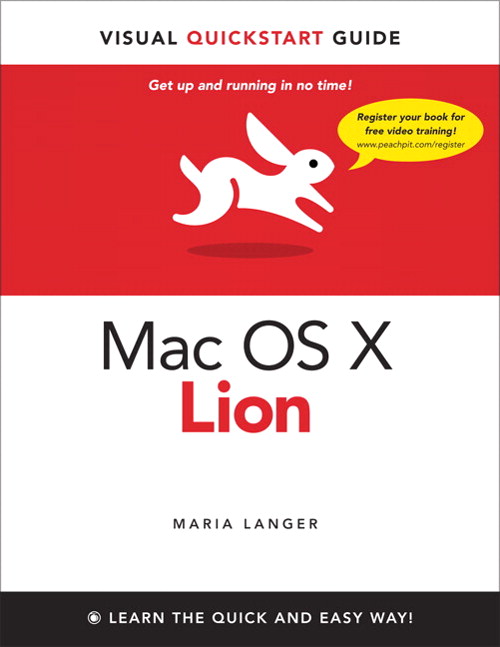 Share
|




Register your product to gain access to bonus material or receive a coupon.
Mac OS X Lion: Visual QuickStart Guide
Best Value Purchase
Individual Purchases
Copyright 2012
Dimensions: 7" x 9"
Pages: 648
Edition: 1st
Book
ISBN-10: 0-321-78673-4
ISBN-13: 978-0-321-78673-9
Visual QuickStart Guides, designed in an attractive tutorial and reference format, are the quickest, easiest, and most thorough way to learn applications, tasks, and technologies. The Visual QuickStart Guides are a smart choice and guide the learner in a friendly and respectful tone. Visually presented with copious screenshots, the focused discussions by topic and tasks make learning a breeze and quickly take you to exactly what you want to learn.

The latest update of this best-selling Visual QuickStart Guide will have you up and running in no time with Mac OS X Lion. Respected, best-selling author Maria Langer will take you through all of Mac OS X Lion's groundbreaking capabilities and new features including Multi-Touch Gestures, Launchpad, Mission Control, the App Store, Mail, and much more. With plenty of screenshots to clearly illustrate techniques, this effective tutorial and reference is packed with practical information for people who want to jump in and start working and playing with OS X Lion.

As a companion to this book, Peachpit offers more than an hour of short, task-based videos that will help you master Mac OS X Lion's top features and techniques; instead of just reading about how to use a tool, you can watch it in action. It's a great way to learn all the basics and some of the newer or more complex features of the operating system. Log on to the Peachpit site at www.peachpit.com/register to register your book, and you'll find a free streaming sample; purchasing the rest of the material is quick and easy.

Related Article
Online Sample Chapter
Mac OS X Lion: Visual QuickStart Guide: Window Views
Sample Pages
Download the sample pages (includes Chapter 4 and Index)
Table of Contents
Introduction
Part I: Getting Started with Mac OS X
Chapter 1: Setting Up Mac OS X Lion
Chapter 2: Finder Basics
Chapter 3: File Management Basics
Chapter 4: Window Views
Chapter 5: Getting Help

Part II: Managing Files
Chapter 6: Advanced Finder Techniques
Chapter 7: Searching for Files
Chapter 8: Storage Devices & Media
Chapter 9: Backup & Recovery Features
Chapter 10: Multiple Users

Part III: Using Applications
Chapter 11: Application Basics
Chapter 12: Standard Application Menus
Chapter 13: The App Store
Chapter 14: TextEdit
Chapter 15: Address Book
Chapter 16: iCal
Chapter 17: Music & Video Applications
Chapter 18: Other Mac OS X Applications
Chapter 19: Dashboard
Chapter 20: Desktop Management

Part IV: Mac OS Utilities
Chapter 21: Fonts
Chapter 22: Printing
Chapter 23: Disk Utility
Chapter 24: Mac OS Utility Applications

Part V: Network & Internet Connectivity
Chapter 25: Networking
Chapter 26: Connecting to the Internet
Chapter 27: Internet Applications

Part VI: Customizing Your Mac
Chapter 28: Customizing the Finder
Chapter 29: Customizing Finder Windows
Chapter 30: System Preferences Basics
Chapter 31: Personal Preferences
Chapter 32: Hardware Preferences
Chapter 33: Internet & Wireless Preferences
Chapter 34: System Preferences

Part VII: Reference
Appendix A: Menus & Keyboard Shortcuts
Index
FREE

TRIAL WITH PURCHASE!
---
By completing any purchase on Peachpit, you get unlimited 15 day access to thousands of Training Resources on creative topics You will also get a discounted rate of just $17.99/month if you decide to continue with a paid subscription.
Other Things You Might Like