Home > Store > Web Design & Development > Adobe Dreamweaver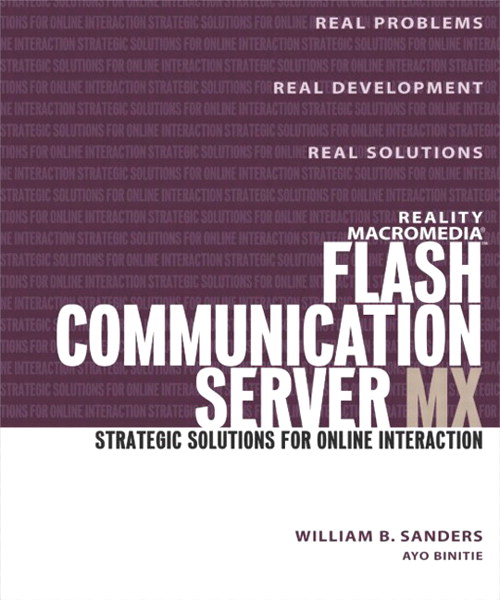 Reality Macromedia Flash Communication Server MX: Strategic Solutions for Online Interaction
Book
This product currently is not for sale.
Copyright 2003
Dimensions: 7 1/2 x 9
Pages: 360
Edition: 1st
Book
ISBN-10: 0-321-17914-5
ISBN-13: 978-0-321-17914-2
If you¿re a cutting-edge Web developer who wants to create interactive, user-friendly sites that will transform the way people work with the Web, you¿ve probably heard about Macromedia Flash Communication Server MX. By incorporating streaming media, real-time collaboration, and multi-way video, audio, and text messaging into one server solution, Macromedia Flash Communication Server MX enables you to easily add features like shared live white boards, multi-way chat screens, and video conferencing to your sites. The best part? It¿s all delivered through the Macromedia Flash Player so viewers don¿t have to open multiple applications.
Reality Macromedia Flash Communication Server MX: Strategic Solutions for Online Interaction is the only book to give you a behind-the-scenes look at developing real-world FlashCom projects that are practical, cost-effective solutions. As part of the development team you¿re privy to the memos, notes, work-flow, planning, and process charts that are included in a real development process. Over the course of the book you¿ll learn to build entire applications (which are included on the book¿s companion CD-ROM) using both client-side and server-side Communication ActionScript. Different design ideas are presented and either accepted or rejected, and discussions about usability, HCI, and bandwidth realities are revealed so that you¿ll come away with a clear idea of what to expect in development as well as strategies to overcome those challenges.
