FuelBooks Holiday Tip: Time to Treat Yourself? The Pro's Secret for Choosing Your Next Camera Lens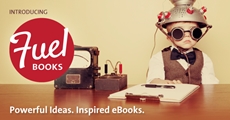 From the book
When I first got started as a photographer many years ago, I could barely afford my camera and one lens let alone another lens. Plus, zoom lenses did not exist as a viable option. That meant every lens purchase had to be considered carefully. I had to think about what focal lengths I was missing, rather than what I wanted. This point of view has helped me through the many years I have photographed as a pro even after I could more easily afford a new lens:
• Pay attention to photographs you want but can't get because of the lenses you have. This means you are paying attention to your real needs, not the needs of someone else, a camera club, a camera sales person and so forth. Do you constantly wish you could get a closer shot of your subject when you cannot get close? That means you need a telephoto. Do you constantly wish you could get a wider shot of something but you can't back up enough to get it in? Then you need a wide-angle.
ISO 100, 1/40, f/13, 400mm (APS-C)
Without a telephoto lens, I would have been severely limited in photographing this green heron.
Lens or focal length
Commonly, photographers interchange focal length and lens when talking about this subject. So I might mention a 24mm focal length or a 24mm lens, or a wide-angle focal length or a wide-angle lens. I discovered from my classes at BetterPhoto.com that sometimes students new to photography thought that they had to have a specific wide-angle lens, for example, even though they might have a zoom lens that included that wide-angle focal length. So regardless if you have a 24mm lens or a 24mm focal length on your zoom, they are the same and they are both 24mm lenses. It is just that the zoom includes more than one focal length.
Can't decide? What about the super range zooms?
Most cameras have the possibility of using a compact, extreme range zoom that goes from wide-angle to very strong telephoto in one lens. These offer the ability to carry a lot of focal lengths in one lens and can be great travel lenses. I will be talking more about them in Chapter 3, Zooms versus Prime Lenses. For now, though, be aware that there are trade-offs with these lenses that may make them inappropriate for you. These include a small maximum aperture, especially for the telephoto, that makes them hard to use in anything except bright light.
Tip
Price alone is not always an indicator of lens quality. The price of a lens is affected by many things. A big lens for a 35mm-full-frame camera will immediately be larger and more expensive than the same equivalent quality lens for Micro Four Thirds (MFT). This is because the optics must be bigger to deal with the larger format size, and as optics get physically larger, they become more expensive to gain the best image quality.