Video Modes for GoPro Cameras
There are many video settings available with the GoPro. Which format should you choose, and why? Learn more from founding GoPro media team members Bradford Schmidt and Brandon Thompson, and watch a video showing that while settings can be important, ultimately it's content that is king.
Like this article? We recommend
Note from the Authors
This is the book we wish we'd had five years ago, when we first started making videos for GoPro. We've taken special care to make the contents applicable to all GoPro users, whether you are a seasoned professional filmmaker or a stoked amateur who has pulled the camera out of the box for the very first time.
Video Modes
1080p120. 2.7K48. 1440p80. 4K30, and so on. Why does GoPro offer so many different video settings, anyway? One reason is the need for multiple aspect ratios: the GoPro's 16:9 and 4:3 video modes are designed to capture so many different activities from so many different perspectives. Another has to do with the realities of image processing limitations and the trade-off between resolution and frame rate. Higher resolutions limit the number of frames per second a camera can capture. So when ultra high resolution and detail are the goal, then a slower frame rate may be required. When super slow motion is your aim, then a higher frame rate takes precedence and you may need to shoot in a slightly lower resolution. 2.7K48 is a great example of a resolution and frame rate that effectively balances both sides of the equation.
This is all well and good. But it doesn't answer the question most GoPro users will inevitably face, which is: "What mode should I shoot in?" The good news is that the answer to this question matters less than you might think.
In the fall of 2012, GoPro released the HERO3, which surpassed most consumer cameras in both maximum resolution and frame rates—a testament to our engineering team's capabilities. In January, we needed a 30-second commercial to air during the Super Bowl, the most widely viewed forum for advertising in the world. It was the perfect opportunity to showcase a video shot on the newly released, 1080p60 capable HERO3. Yet, what video did we choose? Dubstep Baby, a customer video shot in the sub-premium 720p60 resolution on our first generation HD HERO camera. Why?
Because content is king. At the end of the day, the actual content being captured is more important than the resolution or frame rate it is captured in. So if you're feeling anxious about whether or not the mode you're using is correct, don't worry. Throughout this book, we aim to help you learn without getting bogged down by the numbers. As long as you're passionate and focused on creating great content, the technical knowledge will come naturally with experience.
Video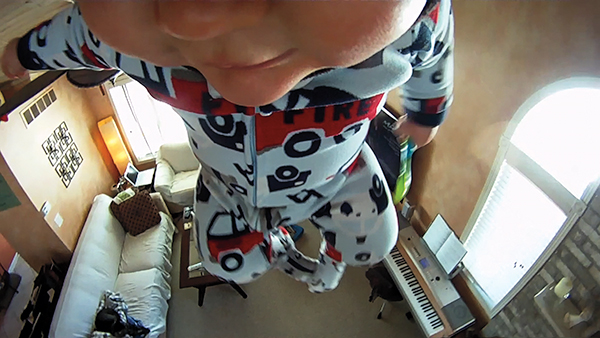 Super Bowl 2013 Dubstep Baby Commercial (YouTube)
Baby Charlie Ray goes for a tour of the house in GoPro's commercial for Game Day! Shot on the HD HERO in 2012.
Filmer: Jeff Wick • Editor: Kyle Camerer

See How it Looks in the Book