Scott Kelby Is Top-Selling U.S. Photography Techniques Author for 2013
Peachpit Author Leads in Photography Techniques Book Sales, According to Nielsen Bookscan Data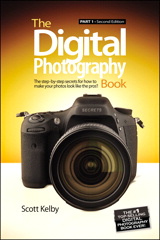 SAN FRANCISCO, CALIF – March 10, 2014 – For the fourth consecutive year—2010, 2011, 2012 and now 2013—Scott Kelby has been recognized as the top-selling photography techniques book author in the U.S., according to research based on Nielsen BookScan data.
Peachpit/New Riders published six Kelby titles in 2013: Photoshop for Lightroom Users; The Photoshop Elements 12 Book for Digital Photographers; The Digital Photography Book Part 1, Second Edition; The Digital Photography Book Part 2, Second Edition; The Adobe Photoshop Lightroom 5 Book for Digital Photographers; and The Adobe Photoshop Book for Digital Photographers (Covers Photoshop CS6 and Photoshop CC).
Scott Kelby's bestselling books also include The Digital Photography Book (volumes 1, 2, 3, and 4), which feature hundreds of photographic tips for photographers; Photo Recipes Live (Part 1 and Part 2), Professional Portrait Retouching Techniques for Photographers Using Photoshop; Light It, Shoot It, Retouch It: Learn Step by Step How to Go from Empty Studio to Finished Image; and Scott Kelby's 7-Point System for Adobe Photoshop.
"Scott Kelby's inimitable teaching style and infectious enthusiasm for photography continues to inspire thousands of photographers of all skill levels to pick up a camera and, with his non-techie advice, shoot dramatically better photos like the top pros in the business," said Nancy Aldrich-Ruenzel, vice president of Pearson Technology Group and publisher of the creative pro imprints Peachpit Press, New Riders, Adobe Press and Apple Training. "With that rare combination of instruction, inspiration, and humor, Scott is able to truly make learning fun. We are so honored that he is part of our Pearson family and incredibly proud of his continued success and well-earned accomplishments."
To view more of Scott Kelby's best-selling work, go to www.peachpit.com/ScottKelby.
About Scott Kelby
Scott Kelby, author of more than 50 books, is president and CEO of KelbyOne and cofounder and CEO of Kelby Media Group. Additionally, Kelby is Editor-in-Chief of Photoshop User magazine and Light It magazine; he serves as training director for KelbyOne LIVE; and he is the technical chair of the Photoshop World Conference & Expo. Kelby's books have been translated into many different languages, including Chinese, Russian, Spanish, Korean, Polish, Taiwanese, French, German, Italian, Japanese, Dutch, Swedish, Turkish, and Portuguese, among others. For more information, visit http://www.scottkelby.com and http://kelbymediagroup.com.
About Peachpit
Peachpit is part of Pearson (NYSE: PSO), the international media company. Pearson's primary operations also include the Financial Times Group and the Penguin Group. Learn more at www.peachpit.com and www.pearson.com.
###
Media Contact:
Laura Ross, Senior Publicist
Peachpit, Adobe Press
Laura.J.Ross@pearson.com