The Sketchnote Handbook turns 10 this year. We're celebrating with a limited-edition Happy Birthday sticker on the book and eBook, plus a special offer on the Handbook, Workbook, and Video. And keep reading for information on a special giveaway event from author Mike Rohde!
Save 50% when you buy any two of the The Sketchnote Handbook, The Sketchnote Workbook, or The Sketchnote Handbook Video together.* Offer applies to both the print and eBook editions of the books. Use discount code HAPPY10 at checkout to apply savings. Offer ends December 31, 2022.
Buy 2, Save 50% with code HAPPY10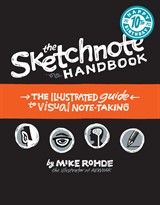 Book *$17.49
$34.99
eBook *$13.99
$27.99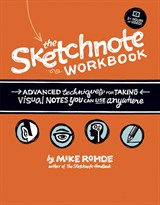 Book *$19.99
$39.99
eBook *$15.99
$31.99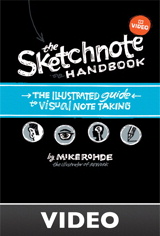 Video *$14.99
$29.99
Birthday Celebrations
November 1: Tune in for a special episode of the Sketchnote Army Podcast on how The Sketchnote Handbook has changed readers' lives. Sketchnote Army Podcast is a show where Mike Rohde interviews sketchnoters and visual thinkers to understand what makes them tick.
November 1-30: Visit Mike's website for details on how to enter the Sketchnote 10th Birthday Giveaway, for a chance to win one of these prizes**:
1 winner: 30-minute coaching session with Mike on sketchnoting
3 winners: 1 signed 10th Birthday Sketchnote Handbook
3 winners: 1 Sketchnote Ideabook & Airship Pen Set
3 winners: Sketchnote Typeface License
To enter the giveaway, (1) follow @Peachpit and @RohDesign on Twitter and (2) retweet at least one Sketchnote 10th Birthday post from @Peachpit or @RohDesign between November 1-30, 2022.
** Giveaway contest open to US participants only, age 18 and older. Entries must be received by 11:59pm EST November 30, 2022. Winners will be notified via an announcement on a blog post on RohDesign.com on or before December 5, 2022 and will need to contact Mike Rohde with a valid email and U.S. mailing address for prize fulfillment within seven (7) days of announcement. Read official rules.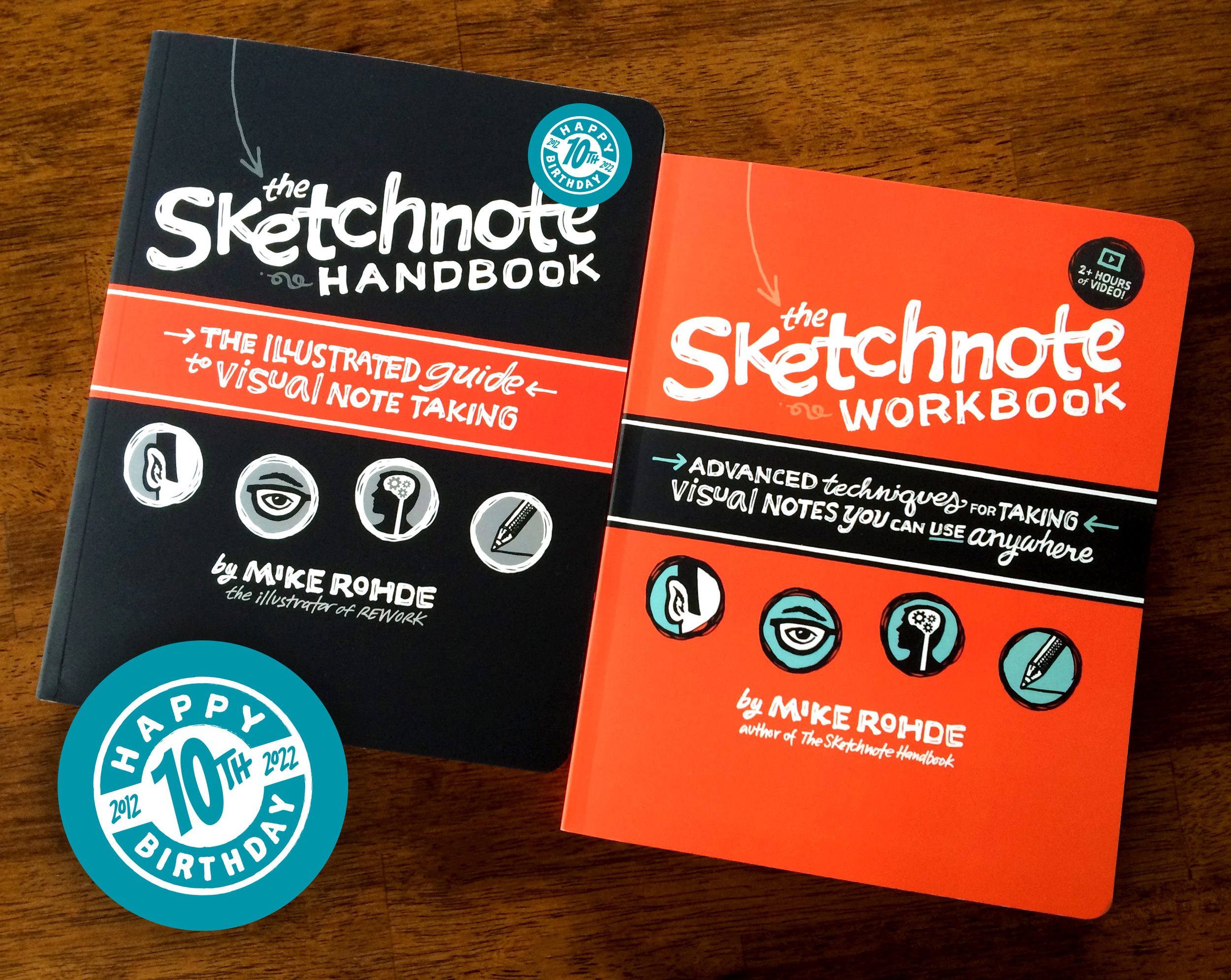 Praise for The Sketchnote Handbook
"Since incorporating Sketchnoting in my ELA classroom, I have witnessed the imagination and creativity of my students thrive through accessing the visuals along with their writing and text."
—Jonathan T., 7th/8th Grade Teacher, California
"Mike's book gave a name to a practice that I'd been doing a long time. Having the term 'sketchnoting' to rally around and a community to learn with and from, changed my life!"
—Kate R., Visual Thinker, California
"Sketchnoting has become an integral part of my science classroom in helping my students recall information through visual cues."
—Sheryl T., 8th Grade Science Teacher, California
"The Sketchnote Handbook helped get me through grad school! Sketchnoting forced me to represent concepts visually, and so I was more engaged in lectures. And scanning my notes later was easy with all the handy visual memory aids. Could I have survived graduate school without sketchnoting? Probably. But I don't think I'd have gotten as much out of it, or enjoyed it as much."
—JJ L., Product Manager, Texas
About the Author
Mike Rohde—Designer, author of The Sketchnote Handbook and The Sketchnote Workbook. Founder and creator of The Sketchnote Army Podcast. Book illustrator for REWORK, REMOTE, and $100 Startup. Lives in Wisconsin, a.k.a. Green Bay Packer Country. You can follow Mike on Instagram and Twitter.
---
Tweets by Mike Rohde
---
* Sale prices displayed reflect 50% discount off list price achieved with purchase of two or more eligible titles and application of discount code HAPPY10. Discount code HAPPY10 confers a 50% discount off the list price of any two ISBNs from this list—9780321857897, 9780133831719, 9780133088120, 9780133832327, or 9780133136142—when purchased together on peachpit.com in a single transaction. Discount not valid on Book + eBook "Best Value" or "Additional Savings" bundles, Book/eBook + Video bundles, video training, non-discountable products, Rough Cuts, Safari Books Online/O'Reilly Online Learning, or any title featured as eBook Deal of the Week. Discount code may not be combined with any other offer and is not redeemable for cash. If any items are canceled or returned, and the order is no longer eligible for a volume-based discount code that was applied to the purchase, remaining items will be invoiced at the standard discounted price shown on the website. Discount offer expires 11:59 p.m. EST December 31, 2022. Offer subject to change.