Peachpit Presents: Featured Archive
While we prepare the next event in our Peachpit Presents series, we invite you to check out the archived editions of our past events, where you can find videos from our free webinar series on graphics, Web design/development, video, and creative business.
Susan Weinschenk: How to Get People to Do Stuff

Behavioral psychologist Dr. Susan Weinschenk discusses some of the topics from her book How to Get People to Do Stuff: Master the Art and Science of Persuasion and Motivation. Susan will show you how you can harness the power of psychology and brain science to motivate people to do the stuff you want them to do—even getting people to want to do the stuff you want them to do. There are 7 drives that motivate people: The Desire For Mastery, The Need To Belong, The Power of Stories, Carrots and Sticks, Instincts, Habits, and Tricks Of The Mind. Dr. Weinschenk describes the research behind one of these drives, and offers specific strategies you can utilize.
How to Get People to Do Stuff: Master the Art and Science of Persuasion and Motivation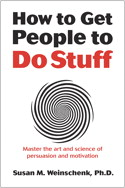 $35.98 $21.59
 Book + eBook
$19.99 $15.99
 Book
$15.99 $12.79
 eBook
Watch Past Webinars