Copyright 2015
Dimensions: 7-3/8" x 9-1/8"
Pages: 384
Edition: 1st
Book
ISBN-10: 0-13-392444-0
ISBN-13: 978-0-13-392444-2
The fastest, easiest, most comprehensive way to learn Adobe® Photoshop® CC (2014 release)

Classroom in a Book®, the best-selling series of hands-on software training workbooks, offers what no other book or training program does–an official training series from Adobe Systems Incorporated, developed with the support of Adobe product experts.

Adobe Photoshop CC Classroom in a Book contains 14 lessons that cover the basics, providing countless tips and techniques to help you become more productive with the program. You can follow the book from start to finish or choose only those lessons that interest you.

In addition to learning the key elements of the Photoshop interface, this completely revised CC (2014 release) edition covers new features, including Generator, 3D printing, linked Smart Objects, Blur Gallery, smarter Smart Guides, Perspective Warp, and more.

Purchasing this book gives you access to the downloadable lesson files you need to work through the projects in the book, and to electronic book updates covering new features that Adobe releases for Creative Cloud customers. For access, goto www.peachpit.com/redeem and redeem the unique code provided inside this book.

"The Classroom in a Book series is by far the best training material on the market. Everything you need to master the software is included: clear explanations of each lesson, step-by-step instructions, and the project files for the students."

Barbara Binder,
Adobe Certified Instructor
Rocky Mountain Training



Errata
Lesson 6:
Depending on the version of Photoshop you're using, your Channels panel may not match the screenshot in lesson 6 on page 151. A Photoshop update released after the book was published changes the way the mask is displayed in the Channels panel. Despite the change, you should be able to complete the lesson following the steps as written.
Lesson 8:
The screenshot for step 3 on page 187 is incorrect. The layers panel should only show one shape layer, not two. The second shape layer appears only after you use the custom shape tool. Below is the correct screenshot for that step.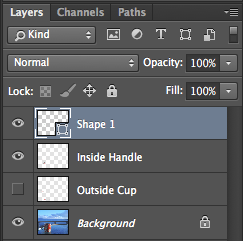 Lesson 10:
The instructions for the "Mixing colors with a photograph" section on pages 232-234 are incorrect. Wherever those instructions mention "Very Wet, Heavy Mix," it should only say "Very Wet."
