Video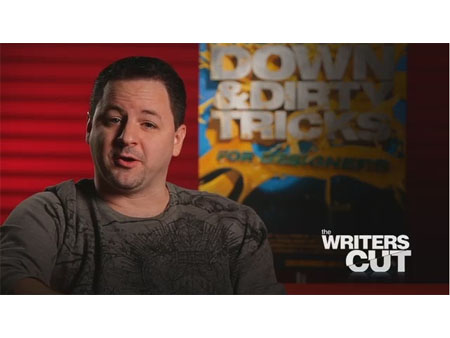 You need to upgrade your Flash Player. You need version 9 or above to view this video. You may download it here. You may also see this message if you have JavaScript turned off. If this is the case, please enable JavaScript and reload the page.

Copyright 2012
Dimensions: 8" x 10"
Pages: 384
Edition: 1st
Book
ISBN-10: 0-321-82049-5
ISBN-13: 978-0-321-82049-5
Corey Barker, Executive Producer of PlanetPhotoshop.com and one of the Photoshop Guys of Photoshop User TV, brings you this handy and inspiring volume in the Down & Dirty Tricks series. Yes, this book is an insane collection of some of the most mind-blowing Photoshop effects you've ever seen in one place. Ever wonder how that movie poster was created, or how they created that cool magazine ad, or maybe even how to take a seemingly mundane photo and give it the Hollywood treatment? Or maybe you just want to know how to do some really awesome stuff in Photoshop. Well, then, this book is for you! Whether you're a designer, artist, or even a photographer, there's something here for everyone. Moving through these projects, you'll start to see the potential of Photoshop's most powerful features and how, with a little experimentation, you can open up a whole new world of dazzling effects.

You'll learn how to:

• Create custom brush effects from scratch
• See type as a design element
• Create Hollywood-style effects that actually look like Hollywood-style effects
• Take mundane photos and turn them into something mind-blowing
• Create eye-popping commercial effects that clients will drool over
• Get creative with 3D in Photoshop CS5 Extended
• Create popular advertising effects you've seen in movies, on TV, and on the Web
• Master dazzling photo effects for designers and photographers alike

Plus, there are so many other things throughout the book that you'll be bursting with new ideas!

Online Sample Chapter
Photoshop Down & Dirty Tricks for Designers: Commercial Effects
Sample Pages
Download Chapter 4: A Word from Our Sponsor: Commercial Effects
Table of Contents
Chapter 1-Brush Effects -Bokeh Brush -Flare Brush -Abstract Brush -Lightning Brush -Splat Brush Effects
Chapter 2-Type Effects -Hollywood Text Effect -Swirly Shapes and Text -Word Brushes -Building Text Elements
Chapter 3-Design Effects -Layer Style Image Effects -Water Splash -Design with Step and Repeat -Silhouette Design -Advanced Logo Effects
Chapter 4-Commercial Effect -Design with Grids -Halftone Elements -Cool Watch Ad -Wood Frame Surf Ad -Video Game Cover Design
Chapter 5-Photo Effects -Illustrated Photo Effects -Gritty Texture Effect -High Key Design Effect -Pinup Girl -Hollywood Style Image Effects -Refine Edge Border Trick
Chapter 6-Hollywood Effects -Movie Poster Finishing Touches -Deteriorating Building Effect -High Tech Graphic Effects -Building a Composite with Layer Effects -Movie Poster Project
Chapter 7-Design with 3D -Create 3D Text with Reflections -Designing with 3D Postcards -3D Logo Effects
