Publishers of technology books, eBooks, and videos for creative people
Home > Blogs > Synchronizing Keywords with Lightroom 2
Synchronizing Keywords with Lightroom 2
While at Photoshop World last week, I was asked how one could take a fully keyworded photo and apply all those same keywords to other similar photos using Lightroom 2.
The answer is using the Sync Metadata button in the Library module. Keywords are a new addition to the Sync Metadata dialog (scroll down to the bottom to see). Here's how it works:
Jump to Grid view and select the photo that has the keywords you want to apply to other photos.
Select all the other photos you want to apply those keywords to.
Click the Sync Metadata button.
Check the Keywords box (you will see all the keywords displayed and can even type in more).
Click the Synchronize button.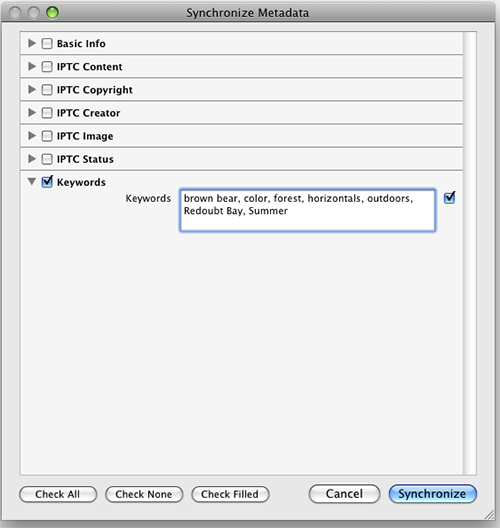 Note that this is a one-way sync, meaning the keywords from the first selected photo will be added to all the other selected photos but not the other way, nor will any preexisting keywords be removed from the other photos. This simply adds the keywords from the first selected photo to the rest.
Other Things You Might Like
Adobe Photoshop Lightroom Classic CC Classroom in a Book (2019 Release)

Adobe Photoshop Elements 2019 Classroom in a Book