Stop Stealing Sheep and Find Out How Type Works, Third Edition
Adobe Press Publishes Third Edition of Best-Selling Book by Erik Spiekermann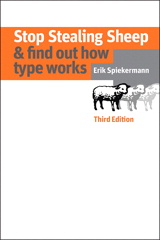 SAN FRANCISCO, CALIF— January 23, 2013 -- After two decades as one of the world's best-selling books on designing with type -- including editions in Korean, German, Russian, Portuguese, and Polish -- Stop Stealing Sheep & find out how type works, written by acclaimed type designer Erik Spiekermann, is now available in its third edition.
Spiekermann brings his type classic fully up to date, with new details on mobile and web typography and scores of new visual examples on how to effectively communicate with type. He also includes a full selection of new typefaces that are used and referenced throughout the book.
"These days people need better ways to communicate to more diverse audiences," said Spiekermann. "We know from experience that what we have to say is much easier for others to understand if we put it in the right voice; type is that voice, the visible language linking writer and reader."
The third edition of Stop Stealing Sheep offers an engaging, common-sense look at how to work with type, choose the best typeface for the message, and express oneself more effectively through design.
Stop Stealing Sheep and find out how type works, Third Edition, is now available at Amazon, Barnes & Noble, Peachpit, and other retailers worldwide. For more information, visit the Stop Stealing Sheep product page.
About Erik Spiekermann
Erik Spiekermann is an information architect, author of books and articles on type and typography, and the designer of such typefaces as FF Meta, ITC Officina, FF Info, LoType, and Berliner Grotesk, among others. Founder of MetaDesign, Germany's largest design firm, Spiekermann now works as a freelance design consultant in Berlin, London, and San Francisco, designing publications, complex design systems, and more typefaces.
About Adobe Press
Adobe Press is an imprint of Peachpit and part of Pearson, the international media company. Pearson's primary operations also include the Financial Times Group and the Penguin Group. Learn more at www.peachpit.com and www.pearson.com.
Stop Stealing Sheep and Find Out How Type Works, Third Edition
By Erik Spiekermann
Adobe Press - December 11, 2013
ISBN-13: 978-0-321-93438-4 - $39.99 - Hardcover
###
Media Contact:
Laura Ross, Senior Publicist
Peachpit, Adobe Press
Laura.J.Ross@pearson.com