Video
This video clip has been formatted and modified to fit this page. The actual video product provides a larger screen size and higher resolution, as well as standard player control tools such as fast forward, reverse, and scrubbing.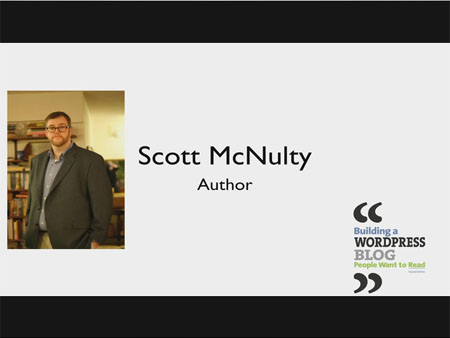 You need to upgrade your Flash Player. You need version 9 or above to view this video. You may download it here. You may also see this message if you have JavaScript turned off. If this is the case, please enable JavaScript and reload the page.

Copyright 2011
Edition: 1st
Online Video
ISBN-10: 0-13-271177-X
ISBN-13: 978-0-13-271177-7
This is an online streaming video, not a download. After making your purchase online, you can log into your Peachpit account page to view the Building a WordPress Blog People Want to Read Video anytime, anywhere with Internet access. Run time: 1h, 32m, 24s.

Having your own blog isn't just for the nerdy anymore. Today, it seems everyone—from multinational corporations to a neighbor up the street—has a blog. They all have one, in part, because the folks at WordPress make it easy to have one. But to actually build a good blog—to create a blog people want to read—takes thought, planning, and some effort. From picking a theme and using tags to choosing widgets and building a community, creating your blog really starts after you've set it up.

In the video for Building a WordPress Blog People Want to Read, you'll learn how to install and set up WordPress, pick a theme and create custom menus, control your site with Dashboard and extend its functionality with plugins, be the master of users and profiles, manage pages and create posts, and deal with comments.
