We love creative typographic design thinking. Sometimes you can't tell if the rule-breaking creativity is intentional or not. In this case, we kinda doubt it.
Recently, as we walked to our car in downtown Santa Fe, we happened to notice the metal cut-out signage above the front doors of The New Mexican, Santa Fe's daily newspaper. Something seemed odd. Perhaps it was the awkward letter spacing in the word MEXICAN.
What's wrong with the sign below?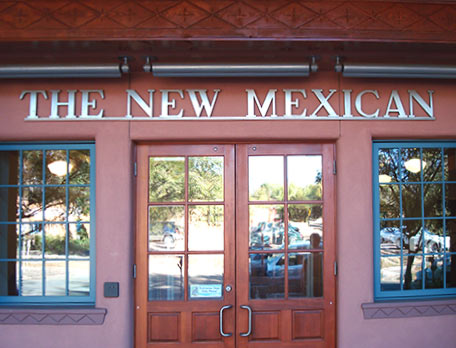 The letter C is too far left, crowding the I and creating too much separation from AN. But that's not the real problem.
The M is backwards (above). Thick and thin serif fonts usually start an M with a thin vertical stroke. We've seen typographically inspired designs that reverse letters for visual effect, but doubt that a 160-year-old newspaper is using that technique to look trendy.
An employee was sitting in front of the building, taking a break and watching us take photos. When we pointed out the backward M she said, "I've worked here for 21 years and never noticed that."
We're curious. Is a cutting-edge designer secretly getting grungy with the old-school publisher? Has the backward M been there long? Will this building go down in history as a monument to creative design or to typographic cluelessness?
In the version below, we flipped the M and adjusted the letter spacing.
Design (or lack of it) is everywhere you look!