There's one special technique that artists have used for centuries to prove that they are, indeed, artists. Now, thanks to technology, you too can make use of this fail-proof artist's technique: put your work on canvas. What says "fine art" more than a stretched canvas?
Lately John has been putting typography on his digital art canvases. As he tells it:

We occasionally see pretty dumb things in famous art galleries and museums, but if it's on canvas we can only assume that it's "art." There are many online printers that specialize in printing on canvas. Just upload your files, then sit back and wait for the finished, stretched canvas to arrive at your front door, nicely packaged and ready to hang. This technique is very satisfying, affordable, and much easier than painting on Vatican ceilings (another centuries-old technique for going down in history as an artist).

One of our favorite online printers, ArtisticPhotoCanvas.com, offers a "Gallery Wrap" option in which the printing of the canvas wraps around the edges and to the back of the stretcher bars, eliminating the need for framing. You can wrap the main image around to the back, or you can position type, calligraphy, or anything you want on the sides of the stretched canvas.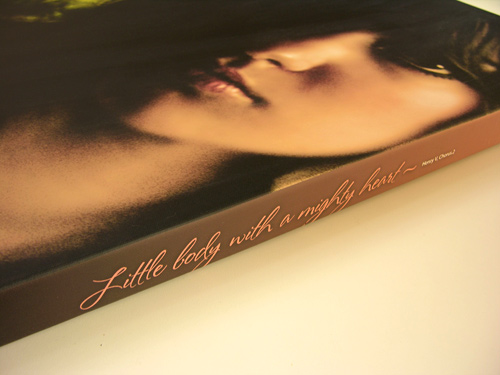 The "gallery wrap" printing technique, shown above, provides creative options in place of framing.

Some of our design projects call for illustrations of various kinds. I usually create these digitally for the design project, then enlarge them to use as large canvases for our own home. Depending on the image, I uses various techniques that hide the pixelation you'd expect to see when an image is enlarged from 10 or 12 inches up to 30 to 50 inches. Some paintings start as photographs, others start as sketches drawn on the screen, using a Wacom tablet. Whenever I use drawing, painting, hand writing, or calligraphy, I use a Wacom tablet. I often start images in Corel Painter, move them to Adobe Photoshop, then back again to Painter, moving back and forth between the two programs many times if necessary. With my background in and passion for graphic design, my images often combine a strong sense of design with stylized illustration and calligraphy or typography.

Invictus: This canvas is based on the inspirational poem Invictus, by William Ernest Henley. The star is a photo from a 48-star flag that was on the coffin of Robin's great-grandfather. I hand-lettered the text on separate Photoshop layers with the Brush tool. Final canvas size: 30 x 30 inches.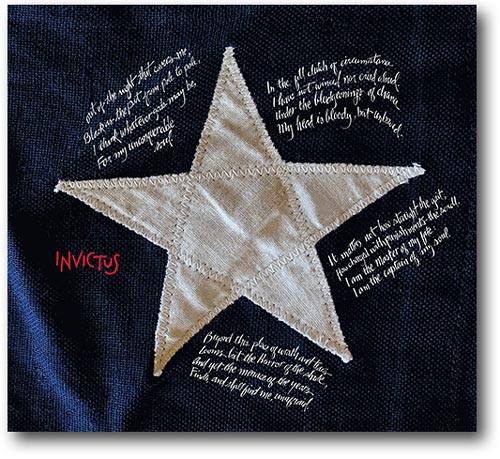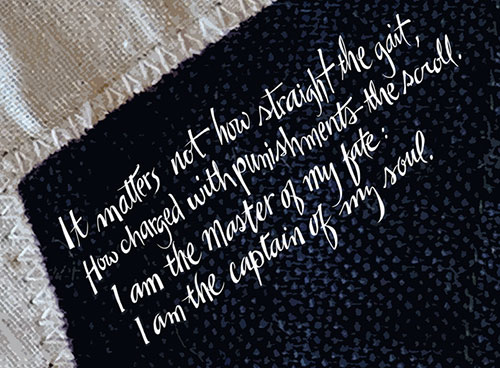 It matters not how straight the hand lettering . . .
Ah Dear Juliet: This is a canvas that I enlarged from a series of illustrations used in our bi-monthly publication The Shakespeare Papers. I drew the original image in Corel Painter using a Wacom tablet, then opened it in Photoshop for resizing, filtering, color adjustments, and hand lettering. Final canvas size: 30 x 40 inches.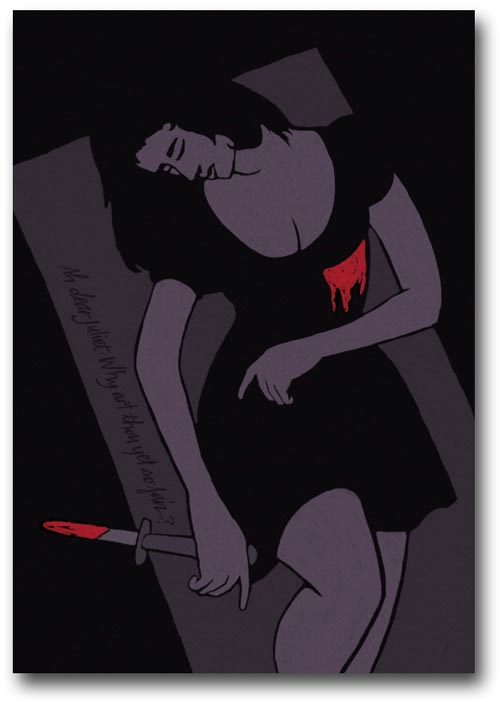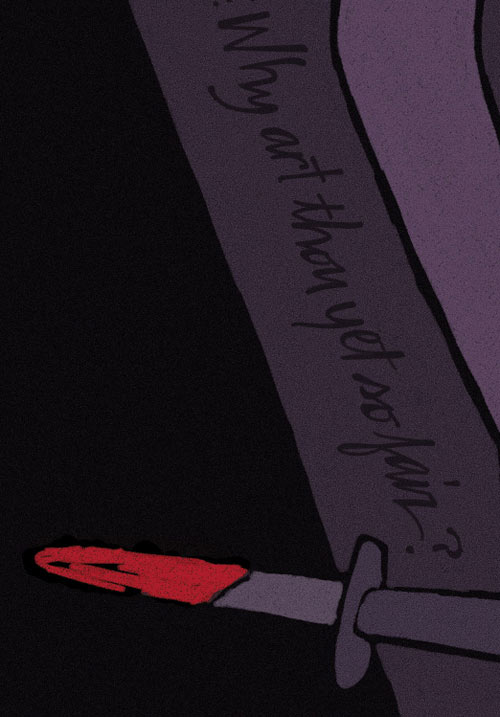 Bullfighter, San Miguel de Allende: This painting is based on a friend's photo of a bullfight in San Miguel de Allende, Mexico. I did the original sketch and painting in Corel Painter, then opened it in Photoshop for additional enhancements, including the typography and type modifications. Final canvas size: 30 x 40 inches.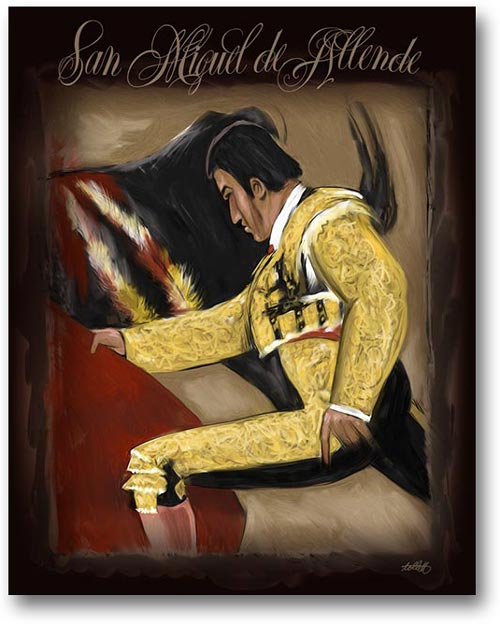 One Night at the Tate: This canvas started as a sketch from life that I made while attending an after-hours drawing session at the Tate Modern in London. I scanned the sketch, applied various brushes and filters in both Photoshop and Painter, and re-sized it several times between filter applications. Final canvas size: 30 x 40 inches.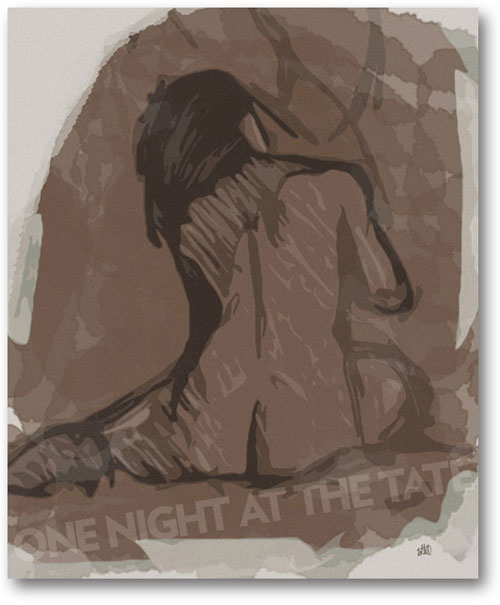 The original sketch, below, is approximately 8x8 inches. Felt tip pen, white pencil, and masking tape on construction paper. At the end of the sketching session, everyone spread their drawings out on the floor. This was the only drawing I planned to keep, so I hastily ripped off the parts of the paper that had really bad drawings, then grabbed some masking tape and taped the drawing to a larger sheet of construction paper that had another semi-OK drawing on it. Later I decided that I liked the "ugly tape" look and left it in the final version.

One That Loved Not Wisely: Another image from the Shakespeare Series I'm working on. The quotation is from Othello. The image started as a photo, taken by a friend, of two tango dancers on a street corner in Buenos Aires (the same photo used in Sad Hours Seem Long, below). Final canvas size: 40 x 40 inches.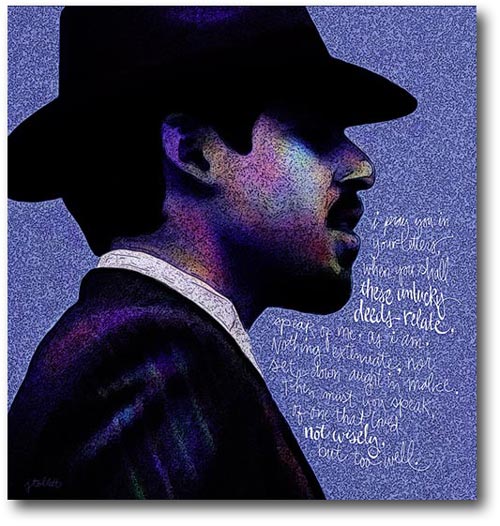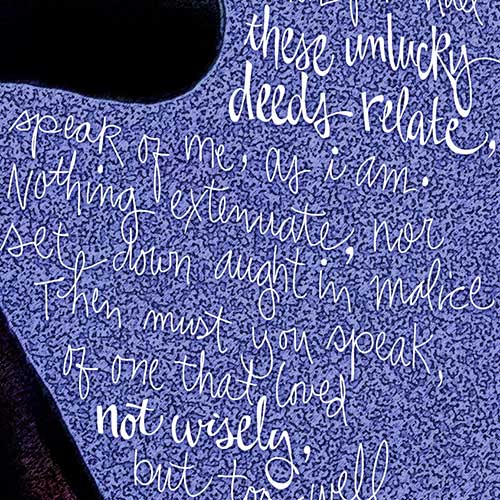 Sad Hours Seem Long: Another quote-on-canvas from the Shakespeare Series. The original photo contained lots of detail that I cropped out, including a chair and a boom box music player at the the couple's feet. Other modifications from the original photo included changing the woman's arms and adding the wind-blown hair. My goal was to make the type subtle while at the same time having the message dominate the image. Final canvas size: 40 x 28 inches.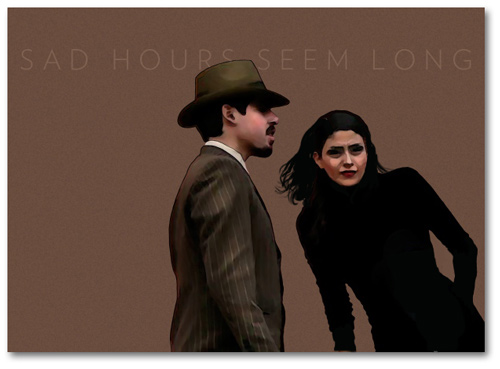 When I in earth am rotten: This image uses Shakespearean Sonnet 81 again (my favorite sonnet). The image started as an ordinary photograph of a cow skull hanging on one of our walls. It's hard to tell, but that's a bird nest in the eye socket. Final canvas size: 30 x 48 inches.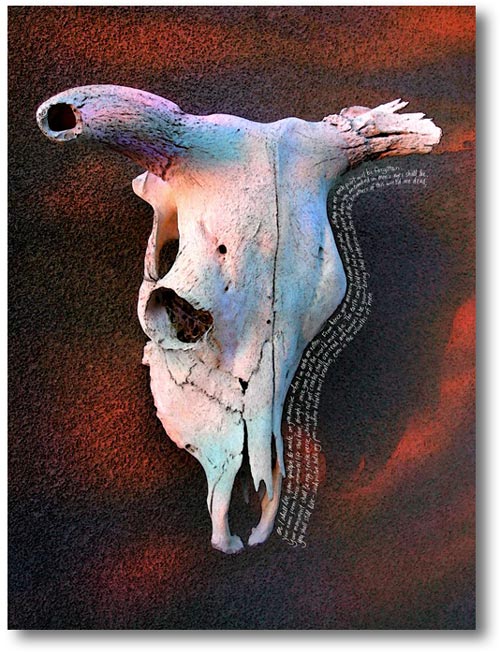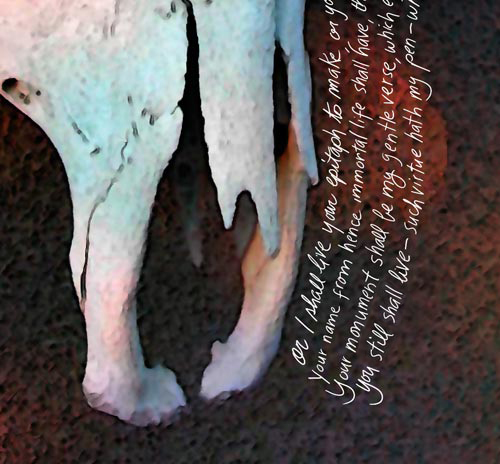 Trumpet to the Morn: This canvas started as a photo of a wild rooster on a beach in Kauai, Hawaii. I took it through multiple sessions of modification, resizing, and painting between Photoshop and Painter. I added the typography and hand lettering in Photoshop. Final canvas size: 50 x 40 inches.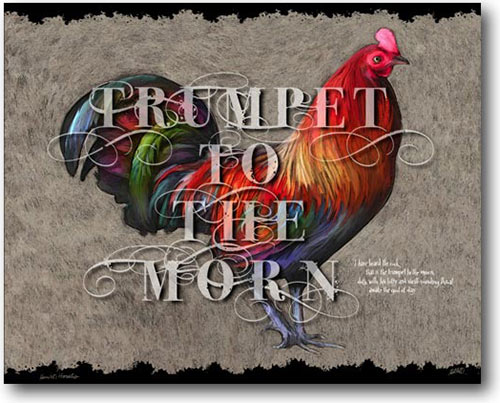 Primitive hand lettering can look pretty good.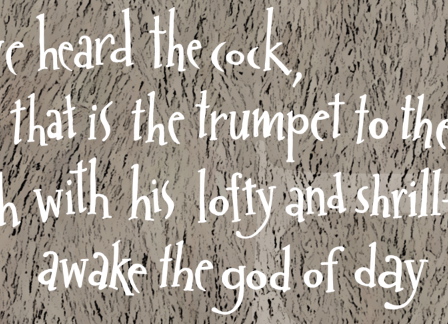 These are just a few ideas for creative outlet projects. There are plenty of others. And for posterity, use iPhoto or a similar online book publishing tool to create a coffee-table book of your digital typographic art. We used iPhoto to create the one shown below.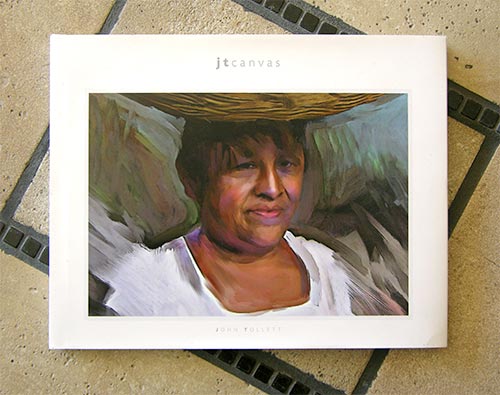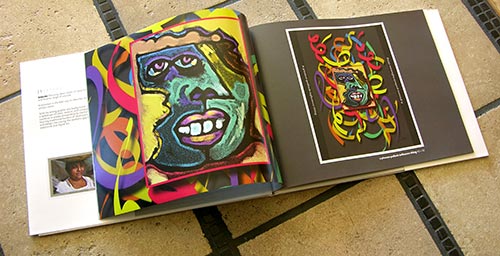 Here's a toast <clink> to some extra creative satisfaction—no client approvals required.