Now that you're doing everything you can to convince a visitor to take that crucial first step and start
using
your application, you need to make sure that first step is one that leads the visitor into a 5-star hotel room rather than off a cliff.
Now, remember, the user hasn't signed up yet, so you still haven't acquired the all-powerful e-mail address that grants you permission to communicate with the person now and in the future. First, you need to show her you'll treat her well.
In other words, you need to sell her on the idea of signing up—right here and now—by creating a great first impression.
How? By turning your blank slate into a self-guided tour that makes a killer first impression.

Get 'em through the first step

Many applications have what's known as a blank slate, which is a screen that is devoid of information or data, and leaves the user wondering what to do next. How do I get started? How do I do what I came here to do?

Your primary objective is to step the user through the answer to every question she might come up with. Ultimately, the goal is to make sure that the user's goals in any given moment are being met.

Here are a couple of examples:

First is Basecamp, a Web-based project-management system that features the ability to create messages and to-do lists, set project milestones, and even chat with other people on the project. When you set up a new project in Basecamp, several of the main tabs features a short screencast.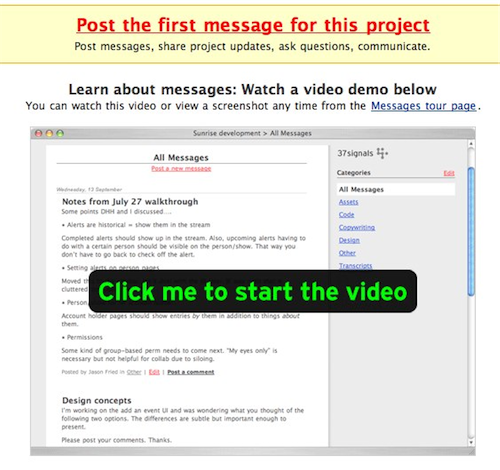 When a user sees the Messages screen, for example, for the first time, her goal in that moment will be to figure out what the page does, why it matters, and how to use it. To answer all three riddles, all she needs to do is click to watch the video for a crash course on the value and usage of each major feature of the screen.

Assuming the user wants to take action, the user's next goal will be to make the first move. So above each screencast is a big, red link that tells the user how to do just that. To get started, the Messages tab offers a link to "Post the first message for this project." By offering this, users can click once and start being productive.

Without the screencast and big red link, the user would be left with a mostly empty screen that offers no clues about how to get started. In other words, a blank slate. You don't want to leave your blank slates blank—you want to fill them up with useful information and entry points that get your users moving forward immediately.

The screencast and big red link in Basecamp set the barrier to entry very low by giving new users a way to get familiar with the tool in just a few minutes. (Bonus: Since your customers can also be part of a project, these elements also help the people who hire you to get up to speed so you don't have to explain everything.)

The one caveat to this example is that Basecamp requires that you sign up before creating your first project.

A more apt example, then, is Photoshop Express, from Adobe Labs, which offers a "Test Drive" button right on its homepage. Instead of requiring signup first, Photoshop Express lets you dive in and start playing around without ever asking for your personal information.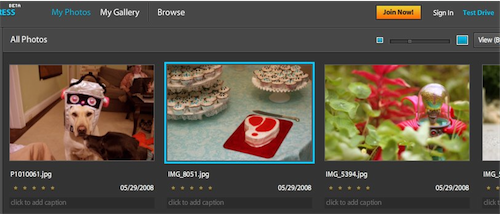 Once you click the magic "Test Drive" button, the site lets you experiment on a bunch of preloaded images, so you can find out what can be done to the images you'll eventually upload yourself and how the application can benefit you. No blank slate here—instead, you find a ton of images to play around with.

In less than five clicks, you can go from the homepage to editing a photograph. You can sign up at any point via the Join Now button, and the application prompts you to sign up whenever you try to do something that requires it. Granted, you very quickly realize you have to sign up to do most things on the site, such as e-mail or rotate an image, but it still makes for a good first impression without yet asking for the user's registration information.

As you can see, the key to getting people moving is to give them the information they need, right when it's needed, and then get out of the way. Once she starts seeing the benefits of the application, you can finally ask her to sign up. If she does, you'll know she did so because she's confident she really wants to use it.

From here, there's just one more thing to do to turn a visitor into a customer: Get her through the registration process. For tips on the last and most crucial piece of the signup framework, tune in tomorrow!
This is Part 4 of a five-day blog series focused on tips based on Robert Hoekman Jr.'s book, Designing the Moment. In this series, Robert discusses ways to get new users over the crucial hurdle of signing up. Click here to see Part 1, Part 2, Part 3, and Part 5.