Designers at any level of experience have at least this one thing in common: font-lust.

In the 1980s, when we first transitioned from drawing board design to digital design, some people (John, perhaps?) absolutely embarrassed themselves as they begged friends to share their fonts. Some designers could be seen standing on street corners, holding signs that said "Will work for fonts." These people were panhandling for fonts because they'd just spent all their money on a computer and a scanner.

Now, happily, lots of great fonts are not only reasonably priced, some are free. The font used in the type samples below, Cassannet, is beautiful, free, and based on the style of lettering seen on famous posters designed by Adolphe Mouron Cassandre (you'll probably recognize the iconic 1932 Dubonnet triptych poster "dubo, dubon, dubonnet").

Go to cassannet.net for a free download. Well, actually, it'll cost you a tweet from your Twitter account or a mention on your Facebook page. The download page provides a quick and easy link for posting to either place.

Cassannet is an art deco style font that includes alternative characters, standard and discretionary ligatures, plus regular, bold, and outline styles. Even though the style is influenced by the art deco movement that flourished throughout the 1930s, its unique design can convey a surprisingly contemporary feel.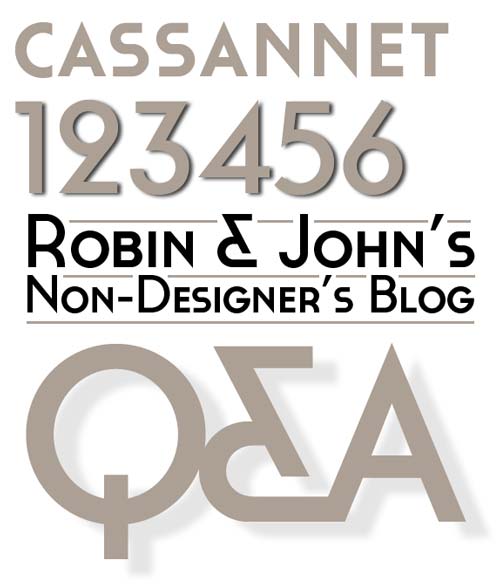 Information Design
A big reason for the popularity of our books, beyond the writing and the basic information presented, is the implementation of information design—design that strives to enhance communication. We design each chapter and each page with that in mind, including where the page content breaks to another page, presenting information as double-page spreads when possible, and simplifying information as much as possible.

John's aside:
When writing books, both of us write and design using Adobe InDesign. After making finished layout adjustments to a chapter I send it to Robin for proofing and technical editing (she goes through every instruction to see if it actually works like the text says it should). She often also redesigns pages or page spreads to improve the visual presentation and comprehension of information.

Speaking of information design, Robin has completed the new paperback edition of Sweet Swan of Avon: Did a Woman Write Shakespeare? When the hard cover edition was released (now sold out), Mac icon Guy Kawasaki reviewed it and recommended reading it as a great example of information design, even if you're not interested in the Shakespeare authorship question.

Animal Hero likes the Non-Designer Books:
Our Non-Designer book about Photoshop received high praise from the people and animal creators of AnimalHero.com. There's always heartwarming stuff going on there, so check out their Facebook page.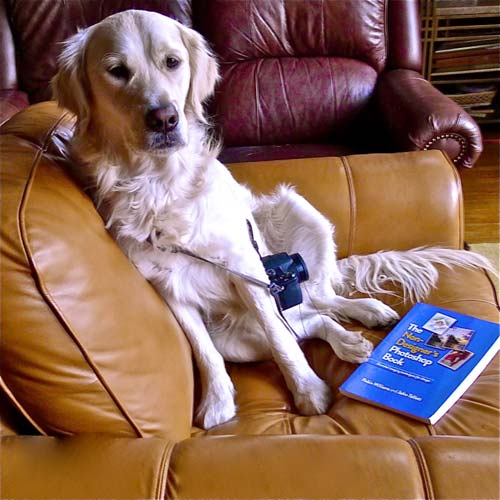 SammyDix relaxes with his copy of The Non-Designer's Photoshop Book.
Future blogs
In early January we depart for London and will be blogging from there about design, illustration, graphics, art, Shakespeare, and any artsy-designy topics of interest that we discover during our trip.