Adobe® Photoshop® CS5 has support for making Flash Panels. These Flash Panels allow you to list all of the tools and menu options you need, leaving out all of the tools that you don't. You can add scripts, menu items, and even movies. I think it's a great idea to use these panels to get rid of all of the extra tools that you see in Photoshop that you don't use. By hand selecting the tools you want to use, you can make your workflow fly!
If you haven't downloaded Configurator 2, make sure you go to the Labs.adobe.com website and download the most recent version. After installing Adobe AIR and the configurator application, you'll be ready to start making some panels.
Start the configurator application and select File>New Panel from the list. This will prompt you to select which application you would like to design for – Photoshop or InDesign CS5.
On the right hand side, give the panel a name, and specify the width and height of the panel. This can be done to taste.

Expanding the tools on the left hand side you'll see all of the tools that you would use inside of Photoshop CS5. Drag out the lasso tool and place it on the panel window and you'll notice you get a set of guides to help you align them. Select the Spot Healing Brush, Patch, Clone Stamp, Quick Select, Dodge, Burn, and Brush Tool.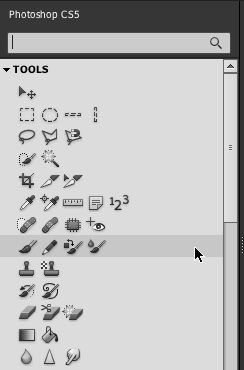 Once you have the basic tools selected, let's go ahead and add a series of commands that will commonly be used. Twirl down the Commands Section and twirl down the Edit drop down. Let's add Fill (to use the Content-Aware Fill features) and Content-Aware Scale to the open panel. Lastly, let's go ahead and add Vignette into the panel. You'll see that this one is hard to find – let's use the search option at the top to get it. Type in "Vign" in the seach window, and you'll see the Lens Correction button appear at the bottom. You can go ahead and add any other tools you'd like to this panel.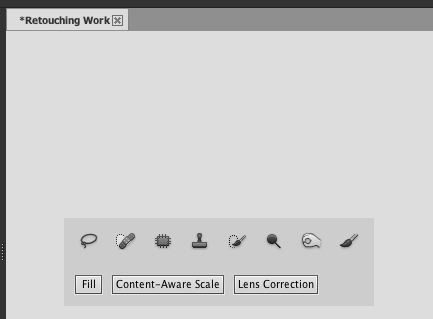 Once that's complete, click on File>Export Panel to take what you have done and export it for use in Photoshop CS5. Navigate to your desktop and save it there.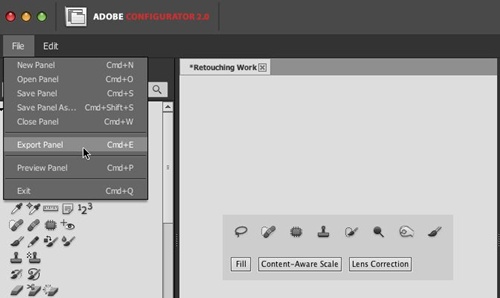 Once you have the folder on your desktop move it into the Photoshop CS5>Plugins>Panels folder.
Once the panel is in place, it will require you to restart Photoshop CS5. After you restart you will be able to access the panel by going into Window>Extensions. This is where any panels that extend Photoshop CS5 are held. In Photoshop CS4, this panel would need to initialize and close, prompting you to reopen the panel a second time. I'm happy to say that this is not the case anymore.

From here you can go ahead and close the toolbar by clicking on Window>Toolbar. You can also close any panels that you will not need inside of Photoshop. Finally, click on Window>Workspace>New Workspace to save this workspace for later use. You can always go back to the Essentials workspace in the Window>Workspace menu, but now when you need to just work on Retouching, just click on the breadcrumb at the top right window.