The biggest difference between Adobe® Photoshop® CS5 and the Extended version is the inclusion of 3D into the program. In CS4, you were able to turn a graphic into a 3D postcard, allowing you to manipulate the element in 3D space, but the options were very limited when it came to text. Photoshop CS5 Extended now comes with a new feature called Repousee – the ability to turn text into a 3D shape. I think once people get over their initial fears of what 3D is, they are really going to start picking up this technology and doing some cool stuff with it.
First, make a 1024x768 72 Pixels Per Inch Document with a white background. Once that's complete, click on the text tool and write the word "World" in 300pt Impact text. Make the text a red color. Give the text a 8 pixel white stroke in the Layer Styles panel and align the document to the center of the canvas.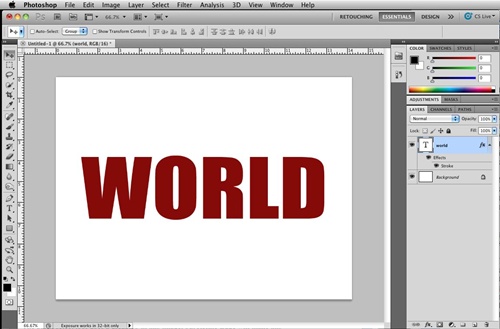 Click on 3D>Repousse>Text Layer and you will be brought to a window that will have a series of controls in it. You'll notice that you can hover over the text and move it in 3D space while you have this window open.
The Repousse Shape presets try to take the pain out of figuring out how to do 3D extrusions by giving you a series of presets to try out. The Materials section deals with the overall color of the 3D content. Think of it as the clothes that you would put on top a a 3D Skeleton. The Extrude settings change how "deep" the text will be in 3D and how that text will pop out at you. The Bevel indents the edges of the 3D objects to give them a little more realism. Finally, the Scene options allow you to change how the 3D object is lit and rendered on the Canvas. In order to get the effect that I have here, I have set an Extrude depth of 3.4, a scale of .72 and a twist of -60. For the materials in the front I selected the "Wood Redwood" texture (at the bottom of the drop down) and the "Fabric Leather" material in the sides (it's in the first row, third from the left).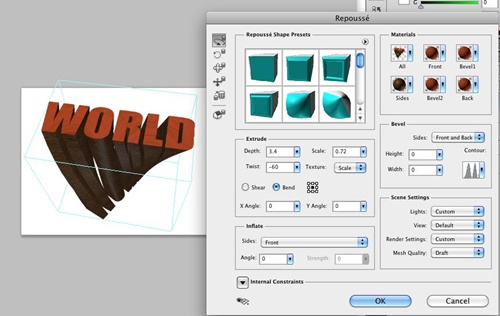 Once you've set the options for your 3D object, click on the OK button.
One of the things that I like about working with Repousse is that all of the information is stored as a series of 3D layer styles. You have the option to double click on any of the layers top open and edit the contents of it. As you save them, the original 3D object will be modified. On top of that, you still have complete control over the Layer styles of the object, allowing you to add drop shadows, glows, and strokes to the 3D object and give it even more realism.