Robin and I never get over the feeling of empowerment that comes with using software programs such as Adobe InDesign, Adobe Illustrator, and Adobe Photoshop.

Like most designers, we've used these three programs so often for so many projects that it would be easy to take for granted what they enable you to do. But only if you started your design career in the digital age. Those of us who spent years on a drawing board and juggling various aspects of a project with different specialists (type setters, retouchers, and illustrators) have a special appreciation for the convenience and flexibility of working digitally. For instance, you really have to run out of compressed air during the middle of an airbrush illustration in the middle of the night, or run out of a certain color you need, then freak out the rest of the night waiting for the art supply store to open to fully realize how great digital art really is.
Because we use (and love) InDesign, Photoshop, and Illustrator so much, we wrote a book about each for our Non-Designer's series. The following example about the opacity mask feature in Illustrator CS5.5 is taken from The Non-Designer's Illustrator Book.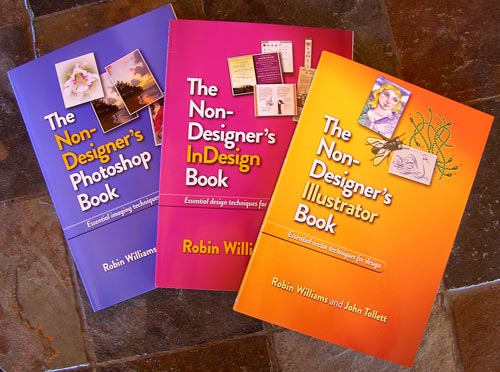 Work Magic With Opacity Masks
An opacity mask lets you hide parts of the artwork to create the illusion that part of it is hidden behind another object. Follow along with this simplified task so you can apply it to your art when necessary.
Draw a circle and assign a red fill color to it, then use the Blob brush to draw a gray, snake-like shape on top of the red circle.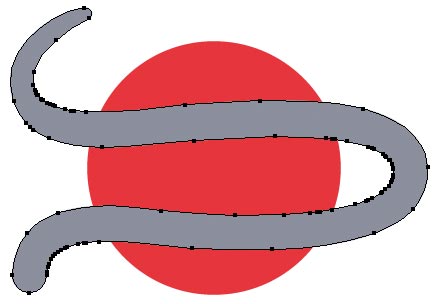 With the gray snake-shape selected, open the Transparency panel (Window > Transparency).

Set the snake-shape Opacity to 50%, so you can see the edges of the circle shape through the snake shape.

Double-click the blank space next to the snake-shape thumbnail.


A black outline indicates which element is selected—the artwork (the left thumbnail) or the opacity mask (the right thumbnail).

Make sure the "Clip" and "Invert Mask" items are not selected.



Draw a shape around the part of the snake shape you want to hide: With the opacity mask thumbnail selected, set the fill color to black, then use the Pen tool to draw the shape. Make sure the path you draw matches the circle edges perfectly (the other edges can be more rough).
The black-filled path you draw appears in the opacity mask thumbnail.



Select the snake-shape thumbnail and reset its opacity to 100%.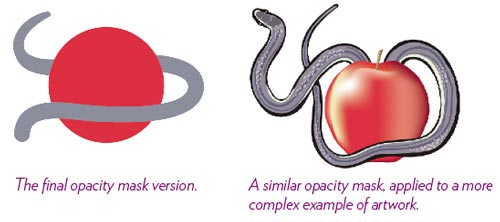 Most of us learn software features just as we need them for certain projects. But if you explore the powerful features that are available, even the ones you don't think you need, you'll have many more skills for dealing with design challenges.