Every month in our Photography newsletter, we feature the work of a new photographer who has contributed to our Photography Newsletter Flickr group. This month, we chose the photo Grand View by Cambridge, UK-based photographer Jonathan Herbert.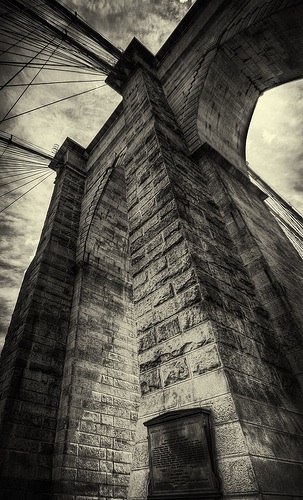 Peachpit: What inspired you to take this shot?
Jonathan: This picture was taken on a sunny afternoon when the light was very bright and everybody had come out to see the bridge. I wanted to try and get an angle of the bridge that was different from what you'd normally see when looking at pictures of this New York City icon. There were quite a few people around the tower, so taking a shot from a normal angle would have put quite a few people in the frame. As a result, I decided to use a wide-angle and shoot looking upward.
Peachpit: Camera settings?
Jonathan: This shot was taken with a Nikon D90 and a 10-24mm lens. I handheld the camera because there was so much light that I didn't need a tripod. At 10mm, the lens was the shortest I had available. I shot with a 100 ISO at f8 because I wanted to get as little noise as possible in the picture. I also used the camera's bracketing feature to take frames at different exposures because I knew I wanted to turn the shot into an HDR picture in post-processing. I shot three different exposures at the following exposures: -2, 0, +2.
Peachpit: Post-processing?
Jonathan: I wanted to create an HDR image so I used Photomatrix to first make the tone-mapped image. For me, Photomatrix is the best software for getting the brackets merged together to create the tone-mapped image.
Once I had the tone-mapped image ready, I used Adobe Bridge to import all of the source images and the tone-mapped image into Photoshop. Next, I used masks to get rid of the bits of the tone-mapped image that I didn't like or that were making the image look unrealistic. When I had the image close to how I wanted it to look, I used the Nik suite to sharpen the image and remove some of the noise. Then, I used Nik's Silver Effects package to create the black-and-white image. This was one of my first black-and-white images and I really liked how the combination of the HDR and black-and-white effect really brought out the bridge's texture.
The entire workflow took about two hours from start to finish. Fortunately, I find the post-processing to be just as fun as getting out to take the shots.
Peachpit: Matte or glossy?
Jonathan: I always use matte when printing—I even have a matte screen on my laptop. I think matte brings out color better in a photograph. Plus, I don't like the glare you get from a glossy finish.
Peachpit: Who or what inspires you?
Jonathan: I have been doing photography since last December and I got into it because I found one photographer—Trey Ratcliff—whose work I find really inspirational. Trey creates some of the best HDR pictures that you will ever see. If you are into HDR and haven't taken a look at his site, I would encourage you to take a look at his work. I also use Flickr for inspiration as I can find some really good photographers on there.
Peachpit: Who are you? Where can we find you online?
Jonathan: I am a UK-based photographer who likes to take landscape and architecture shots. My photographs can be found on my Flickr page and I try to post one new one each week. At the moment, I'm processing pictures of UK cathedrals, which I find make interesting subjects to photograph.
Do you have a newsletter-worthy image to share? Post it in our new Photography Newsletter Flickr group, and you might just see it in the next issue!