Every month in our Photography newsletter, we feature the work of a new photographer who has contributed to our
Photography Newsletter Flickr group.
This month, we chose the photo
Moody Tree
by Colorado-based photographer Julie Rideout.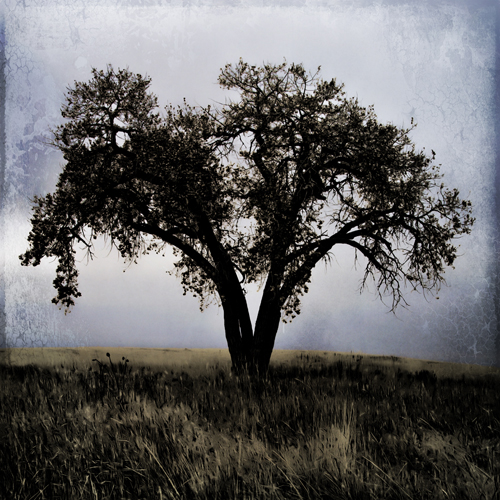 Peachpit: What inspired you to take this shot?

Julie: Well, I had my eye on this tree for a while. I liked its shape and I liked the way it stood alone in the field. But the Rocky Mountain range is right behind it and I didn't want the mountains in this particular image. One morning, as I was sipping my coffee, I noticed some fog rolling in so I bolted to the field.The fog blocked out the mountains, but gave me just enough visibility to get the tree with a nice white background to play with.

Peachpit: Camera settings?

Julie: This was shot with a Nikon D200 in Aperture priority at f16, 1/50 sec. I used my Nikon 18-200 VR lens at 38mm.

Peachpit: Post-processing?

Julie: I did minor adjustments in ACR, then opened it up in Photoshop Elements and used one of my favorite plug-ins, Topaz Adjust. I used the "dark and moody" preset, then tweaked it a bit using the adjustment sliders. After that I cropped it square and added a texture layer from SkeletalMess (his Flickr moniker). I played with the opacity of that layer until I had the look I was after.

Peachpit: Matte or glossy?

Julie: Depends on the subject and the final look you're after. I use both.

Peachpit: Who or what inspires you?

Julie: I'm inspired every day by my Flickr contacts. They are an incredible group of talented people. My very first contact, Vienna1931 (again, a Flickr name) has an amazing set of Alaska images and does wonderful florals. Anna Schwensen is the one who introduced me to textures, and SkeletalMess is the genious behind the creation of a lot of the textures I use. Then, there's LightAsMagic, who I'm convinced can shoot just about anything; PT Photo, who does great vertoramas; Rob Hanson, who's an HDR magician; and Rob Little, another great landscape photographer.

There are more, but I'm pretty sure you don't have the space for me to name them all. They all inspire me and keep me motivated. There is truly a wealth of talent out there on Flickr, and I'm just glad I can log on every day to see it.

Peachpit: Who are you? Where can we find you online?

Julie: I'm just a person who loves photography. Currently, you can only find me on Flickr. One of these days, I may create my own website to showcase my images better, but for right now I'm having fun and learning a lot right where I am.


Do you have a newsletter-worthy image to share? Post it in our new Photography Newsletter Flickr group, and you might just see it in the next issue!