Every month in our Photography newsletter, we feature the work of a new photographer who has contributed to our Photography Newsletter Flickr group. This month, we chose the photo Day 85 by Wisconsin-based photographer Phil Kirchmeier.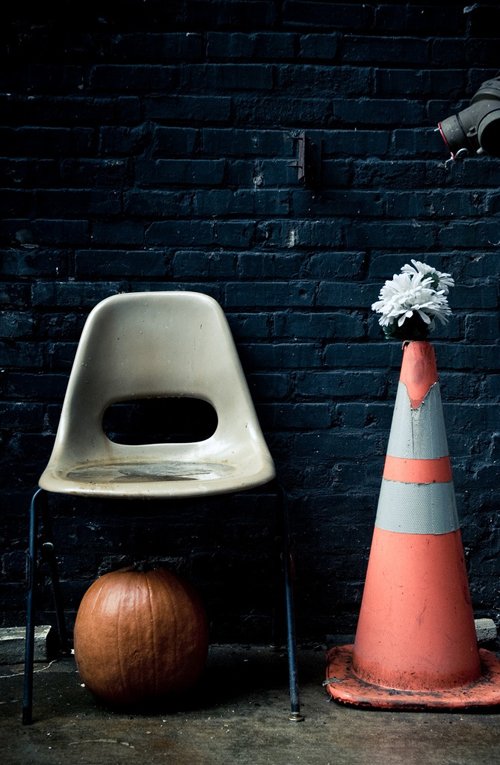 Peachpit: What inspired you to take this shot?
Phil:
I love photographing in urban alleys—the sights, sounds, smells, and calculated risks—to me that's where the juicy scenes are. This was in an alley in downtown Milwaukee and the out-of-place quirkiness of the whole scene was what caught my eye. None of these things belonged together, yet here they were. All were positioned in a way that made them an interesting composition, both pleasing to the eye and raising more questions than it answered. The first thought I had was that it reminded me of Grant Wood's American Gothic. Why that painting, I'm not sure. Perhaps, like the painting, it was the direct side-by-side positioning of the main objects. When I looked through the viewfinder, all of the elements, lighting, and feel of the alley were there and I knew I had something I was going to like.

Peachpit: Camera settings?
Phil:
I used a Nikon D70 hand-held with an AF Nikkor 28-85 at 30mm. Setting was in manual (M) with the exposure being 5.6 @ 1/80, ISO 400.
Peachpit: Post-processing?
Phil:
Processed RAW in Lightroom. I visualized an edgier urban feel when I took this and processed accordingly. I bumped up the exposure 1.75 stops, brought back the brightness, and increased blacks to compensate. I bumped up the clarity and vibrance and decreased saturation. The cone and pumpkin were a little too warm so I desaturated the orange and yellow until they were pleasing to the eye. I finished with a really low saturation split-tone to add a hint of warmth to the highlights and cool brightness to the darks using tan and blue-gray respectively. This gave me the overall exposure and feel I was after.
It sounds complicated, but it only took me about an hour. I believe half the work is to visualize what you want the end result to be before you click the shutter. The rest becomes easy–most days.
Peachpit: Matte or glossy?
Phil:
I let the subject and what I'm trying to say dictate the paper I'll use. For most of my work, I'll use matte. Although, for some images, I love the contrast and richness gloss can achieve for color and B&W. In the days of film, I preferred the best of both worlds–pearl.
Peachpit: Who or what inspires you?
Phil:
It goes without saying that those who came yesterday influence my work today. Most notably, Andre Kertesz, Max Baur, Paul Strand, and Saul Leiter's color work are among my strongest influences. Those boys did things creatively that blows me away every time I see their work.
I read recently (and I'm paraphrasing) that the canvas of an artist is blank and a painting is built up from nothing, out of perception and imagination, while photography's frame is full and is one of selection and omission from real scenes or events. That's what inspires me. To see those objects, people, or places before me, select those things that convey my visual voice, and to paint a story, evoke a feeling, or stir a memory a fraction of a second at a time.
Peachpit: Who are you? Where can we find you online?
Phil:
I'm a practicing web designer who recently returned to photography after leaving the medium in the mid 90s. To awaken my long silent muse, I've undertaken a project 365 using Flickr as my daily progression blog. I really value the community Flickr generates and I find the work in there to be inspiring as well. While Flickr is my main avenue for posting on the interweb, I'll also cherry pick a select few of the project images for inclusion on jpgmag.com.
My Flickr photostream:
http://www.flicker.com/chasingvision
My website:
http://www.kiactive.com

Do you have a newsletter-worthy image to share? Post it in our new Photography Newsletter Flickr group, and you might just see it in the next issue!