Every month in our Photography newsletter, we feature the work of a new photographer who has contributed to our Photography Newsletter Flickr group. This month, we chose the photo Point Reyes 9 by Northern California-based photographer Phil Minton.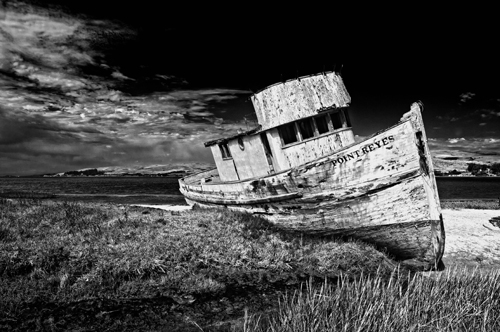 Peachpit: What inspired you to take this shot?

Phil: I wanted to explore new areas of the San Francisco North Bay area to photograph so I was using Google Earth to scan areas visually to look for potential sites. As I was looking along the Tomales Bay waterfront, I stumbled across this fishing boat that apparently had been lodged in a sand bar for quite some time. I had seen a photo of it before, not knowing where in the world it was, but when I realized it was in my backyard, it became a quest to visit it. I plugged it into my GPS and devoted a Saturday for my quest to find this boat. I took my tripod and two camera bodies, and took photos of the boat from every angle and with different lenses to make sure I had my bases covered.

While I was there, a fairly steady stream of tourists came down to take photos. This setting is so perfect, it's just begging to be photographed. I knew I wouldn't be the first to take this photo, but I wanted to see if I could come up with an original vision.

Peachpit: Camera settings?

Phil: The photo was taken using a Nikkor 18-200mm VR, on a tripod-mounted Nikon D2X. ISO was set at 200. The camera was set to manual at an aperture of f/10 and an exposure of 1/200. The lens was set at 18mm. I planned to experiment with HDR, so I also set the camera to the bracket mode of three exposures at one compensation step.

Peachpit: Post-processing?

Phil: Where do I begin? I really experimented with this shot, and tried several methods to get just the results I was looking for, so I don't remember the specific steps that I took. I know I started off using NIK's HDR Efex Pro in Adobe Lightroom to merge the three bracketed shots together. I do most of my image adjustments in Lightroom, and after I had the created the HDR image I spent a lot of time working the sliders to further adjust the image. I then exported the file over to Photoshop and used NIK's Color Efex Pro. First, I used the Tonal Contrast to punch up the image, then I ran it through again using the Dynamic Contrast function of the B/W Conversion tool to bring it over to black and white. I tend to use saturation in my colors to the point that they exceed reality, but that's the way I like my photos to look.

Peachpit: Matte or glossy?

Phil: I feel the glossy paper gives off too much glare to the point of distraction. I've been really pleased with the results of matte paper.

Peachpit: Who or what inspires you?

Phil: I'm inspired by the instance, the moment, of an image that captures you and draws you in to look deeper into what you are seeing. When an image forces me to take a longer look, examine its details, question why the photographer took the shot, ponder what the people are doing or thinking at that moment, or just causes me to revel in its beauty or ugliness …that is what inspires me to make my own images.

When an image has made me pause to wonder, or enjoy, then that is a gift. When I can create an image and make someone else pause to wonder or enjoy, that is definitely a gift. I have always had a need to express myself in an artistic and creative way and while dancing and music are not for me, photography has become a very expressive and enjoyable venue to share my voice with others.

Peachpit: Who are you? Where can we find you online?

Phil: I have worked many years in both the I.T. and engineering fields, but that is just …work. I bought my first digital SLR in January 2007, and since then I've been completely consumed by photography. It's become a passion that I think about every day. Fortunately, I've been able to turn this one-time hobby into a second income, albeit a smaller income, but in such a short amount of time it's taken me where I never thought I would go. I'm working towards the day when I can make my photography my main income, and I will get there.

Through Getty Images and National Geographic Stock, I've licensed images in North America, Europe, and Asia. I've had several of my images appear on National Geographic's website, but my biggest thrill of all is when National Geographic used one of my images as a wallpaper that they provided for their online visitors. It's pretty amazing to see your image with a National Geographic logo stamped on top, and your name below. That was definitely a dream come true; now I just need to get them to print an image in the magazine, but I'm working on that.

You can find me online at any of these fine establishments:

My website is: www.philectric.com

Facebook: http://www.facebook.com/#!/pages/Philectric-Arts/309969810023

Flickr: http://www.flickr.com/photos/philectric_arts/

Twitter: http://twitter.com/#!/Philectric_Arts
Do you have a newsletter-worthy image to share? Post it in our new Photography Newsletter Flickr group, and you might just see it in the next issue!