Every month in our Photography newsletter, we feature the work of a new photographer who has contributed to our Photography Newsletter Flickr group. This month, we chose the photo "Daffodils in the Morning Fog" by Pacific NW-based photographer Tony D. Locke, MM.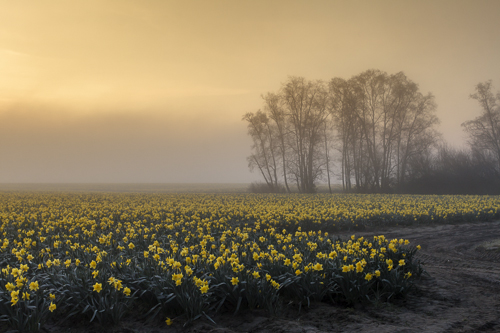 Peachpit: We're jumping headfirst into the Spring season and your beautiful image of daffodils caught our eye. What inspired you to take this shot? Where were you?
This image was shot in the Skagit Valley farm lands about 1½ hours north of Seattle. The farms produce a lot of different crops year round. Some farms will rotate in daffodils or tulips in their fields for spring. There is a Skagit ValleyTulip Festival each year.
I teach photography workshops (along with Adobe Photoshop and Lightroom) and also have at least two free "spur of the moment" photo outings each month. This shot was captured on one of those trips. I posted on my Facebook page that I was going to be shooting a "sunrise over the daffodils" at 6:30am, welcoming everyone to stop by and shoot and pick up some photography tips. Eight people joined me to enjoy a brisk morning with lots of fog to enhance our shots.
Peachpit: Let's get into some of the details. What were the camera settings? Any post-processing? Do you prefer matte or glossy?
I spend maybe 90 percent of my time in Aperture Priority mode with my camera on a tripod. I set my aperture at around f/16 or so most of the time. I use exposure compensation as needed, watching the histogram for correct exposures. This is similar to shooting in Manual mode, but with different controls and a bit less thinking involved. I shoot raw and process all of my work in Adobe Photoshop Lightroom 4. I spend about 85 percent of my processing time in Lightroom now as it's more efficient and does a great job. I'll still use Photoshop CS5 for HDRs, panoramas, and photo restorations work for customers. Photoshop CS6 doesn't have anything that I feel I really need and now the Lightroom 5 beta has just been announced. It's never ending.
Do I like matte or glossy? Both actually. I do fine-art printing on an Epson R3000 for customer and personal work. I prefer Ilford's Smooth Pearl (semi gloss) or Moab's Exhibition Luster paper. For my black-and-white work I use Hahnemühle's German Etching Rag for matte paper.
Peachpit: We actually selected another of your images last year—Padilla Bay. You mentioned you were mainly a landscape photographer and based on this image we assume that still holds true. In you previous interview, you said you liked shooting landscape images while hiking. Over the past year were there any particularly stunning moments you captured during your hikes?
Well, there's Mt. Rainier and Paradise for starters (Road to Mt Rainier). I captured some great shots last fall while climbing up and around that area. This was actually the first time I'd hiked Mt. Rainier and could actually see the mountain. It's always been clad in very thick clouds/fog and snow on previous trips with maybe 50 yards visibility—barely able to see where the trail is going (Mt. Rainier Fog). Closer to home I hike the local, national, and state forests or a quick scramble/climb up 1,300 foot Mt. Erie, which is right here where I live on Fidalgo Island. Any chance I have to go for a hike or a climb—I'm gone. Most of the time I have my camera with one lens too.
Peachpit: Who or what inspires you?
I enjoy watching our students learn. I like to see the joy in their faces when they've discovered or captured something new. Just go anywhere online and you'll find more to learn as well. There are a lot of great photographers. Study them. Why do you like what they've made? How did they get that shot? How can you do something similar? How much was done in processing that image? How much does that impact or change the image? Does it make it better or worse? It's all personal taste. Look at paintings too. Join up with other photographers in your area for photo field trips. Join a club (or start one) and take workshops. You'll be exposed to lots of inspiration.
Peachpit: Any sage words of advice for someone trying to get into landscape photography?
My advice? Just go to the places you enjoy visiting and bring your camera with you more often. Make it a point to explore places you've never been too. Here in the Pacific Northwest, I've have an unlimited range of options within an hour's drive. I'm sure you do in your area too. You'll start noticing things you've never seen before, especially how the moving light creates different effects on your scene even as you're standing there. So sometimes you'll have to work fast, before the light leaves! You might also want to start going with other photographers to share the experience and learn from each other.
Purchase a good sturdy tripod and learn to use it so that it's second nature to you. Find the best one you can afford and see if you can stretch your money just a bit more to get the next better one or upgrade to a really good ball-head as this is an investment that will last you many years. Most shots are going to be with a smaller aperture, which means shutter speeds are going to be too slow for hand-held shots. Plus it makes composition so much easier and if you need to go into the scene to remove a branch or a cigarette butt. Your camera will stay in place and ready for the shot.
Explore other photographic styles too: people, abstracts, or floral shots. This will give you more experience with your camera and may open up new ideas and interests. Sometimes step away from the big picture of a scenic vista, zoom in, get close, and get even closer. Pay attention to the details in patterns, colors and shapes.
Peachpit: Tell us a little bit about yourself. Where can we find you online?
My story? I've always been a very creative person with a large sense of curiosity and great intuition. I've been a serial entrepreneur for over 30 years with several successful companies along with just as many flops. My formal training is in electronic design. I'm also a musician, so I put those two together for most of my companies. Photography had been another hobby, which then became my next stream of businesses, including a photo gallery for about three years. Besides my ongoing artists workshops (for more than just photographers), I also now work with authors too, doing self-publishing, book layout, graphic design for cover art, ebook conversions, and marketing. There is always something new to explore
Here's my websites so you can learn more about what I'm up to:
Everyone has to pretty much be on Facebook today: Facebook.com/tonylockephotography
Most of my art can be purchased at: Tony- Locke Artistwebsites
Flickr for images which haven't made it to my other site yet: flickr - Master of Madness
My blogs cover photography at: tonys photographic blog
Photoshop & Lightroom at: tonys photoshop tips
My Travel Photography ideas: Eurisko Adventures
My workshop site: Alternative Focus Artist Workshops
My e-publishing site: Armchair ePublishing
Thanks for allowing me to be a part of your Photography Newsletter, its been an honor,
Tony D. Locke, MM
(still reigning Master of Madness)
Do you have a newsletter-worthy image to share? Post it in our Photography Newsletter Flickr group, and you might just see it in the next edition!