In Mac OS X, it's a snap to convert almost any document to PDF. From the print dialog, simply choose Save as PDF... from the PDF popup button. If you've done this before, then you may have noticed there are some other options in this popup, as well, such as Mail PDF. These are print plugins, and, using Automator, it's possible to create your own and add them to the list. Suppose you upload PDFs to your FTP server on a regular basis, so you can share them with your family, coworkers, or whoever. Every time you do this, you have to save your document somewhere as a PDF, launch the popular FTP client Transmit, connect to the server, and upload the PDF. This is a perfect time to create a custom print plugin to do this for you. Here's how...
Before building your print plugin workflow, launch Transmit, and create a favorite for your PDF drop zone on your FTP server. If you don't own a license for Transmit, and want to give it a try so you can follow along, you can download a trial version from the Panic website at http://panic.com/transmit/. Once Transmit is installed, its actions should appear in Automator the next time Automator is launched.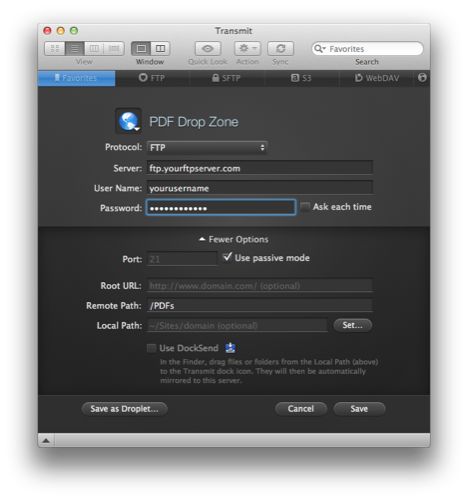 Creating a favorite in Transmit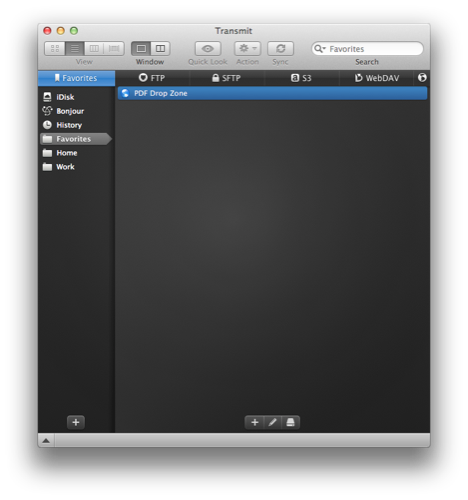 A Transmit favorite
1. Launch Automator (in /Applications)
2. When prompted to choose a type of workflow, select Print Plugin and click Choose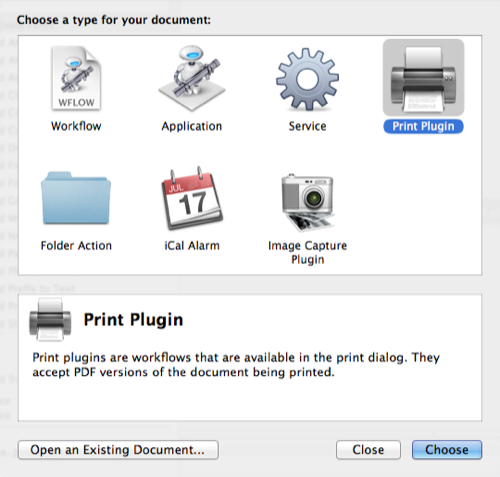 Creating an Automator Print Plugin workflow
The header at the top of the workflow lets you know that this workflow will receive PDF files from the print system for processing.

Print Plugin workflows receive PDFs from the Mac OS X print system
3. Search for the Transmit Upload action, and drag it to the workflow area. When you do this, you'll see that the action "links up" with the top of the workflow area. This tells you that the action receives input. When the workflow runs, a printed PDF is passed to this action as input.
The Transmit Upload action gives you two ways to connect. First, you can set the action to connect to a specified server. This means you manually fill in the server address, username, password, and other fields within the action itself.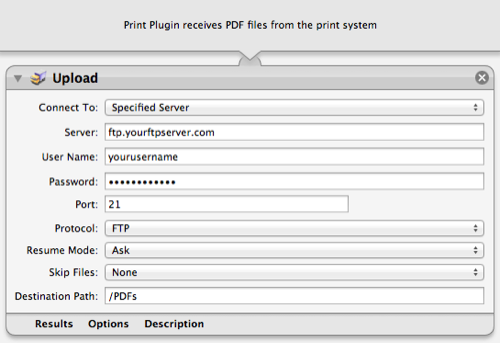 The completed workflow, manually configured to upload
Or, you can set the action to connect to a Transmit favorite. If you created a favorite for your PDF drop zone, use this method, and select your favorite.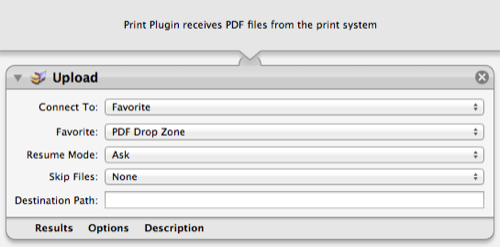 The completed workflow, configured to upload using a Transmit favorite
4. Save the workflow, and name it FTP • Upload to PDF Drop Zone

Saving the Automator workflow as a Print Plugin
Once your workflow is saved, you can run it throughout the operating system. To send a document as a PDF to your FTP server, open a document in almost any application and select File > Print. From the PDF popup button at the bottom of the print dialog, select FTP • Upload to PDF Drop Zone.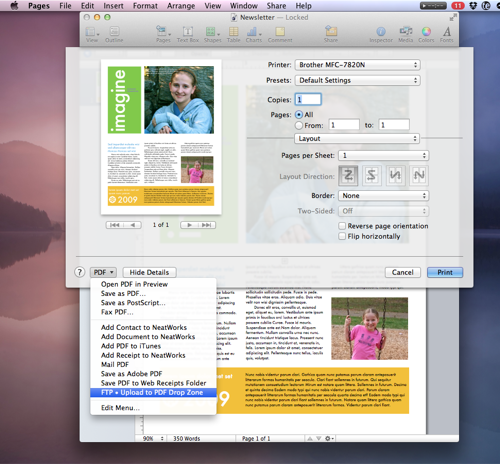 Triggering the workflow from the Mac OS X print dialog in Pages
The document is printed to PDF, Transmit opens, connects to your FTP server, and the PDF is uploaded.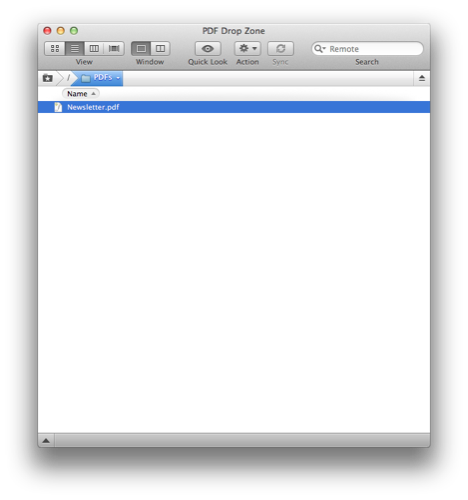 A printed PDF, after upload to an FTP server
For more on AppleScript and Automator, check out my book Automator for Mac OS X: Visual QuickStart Guide, as well as my video podcast series Mac Automation Made Simple.