Last year at this time during the National Association of Broadcasters (NAB) conference, Adobe had announced the Adobe Media Player, a desktop application for video content that would run on AIR and deliver an engaging experience to viewers while giving content publishers the ability to distribute video, create ads, and build businesses around media assets.
This week, Adobe launched Adobe Media Player, which includes major T.V. broadcast and cable networks (CBS, MTV, PBS, Comedy Central, and the Food Network, to name a few), as well as popular content providers such as TED and Epicurious, and shows from media companies such as blip.tv and podango.

Within the lineup is Adobe TV, a new network in the player that provides instruction and tips for photographers, designers, video professionals, and developers. Peachpit TV is featured here with some terrific interviews of our authors, including Andy Clarke's musings on the future of Web design, Steve Krug's thoughts on usability testing, and tons of practical tips from the gang at Layers TV and PhotoshopUser TV.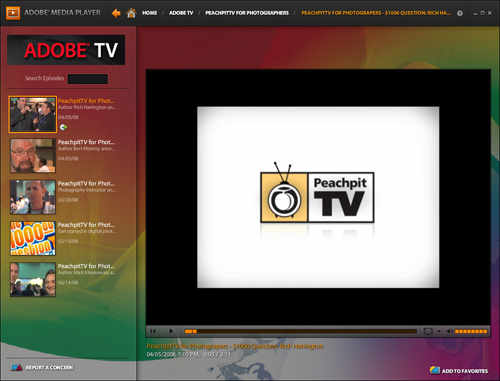 Adobe Media Player is available for immediate download here. We encourage you to check out Peachpit TV and send us your thoughts for programs you're interesting in seeing from us!