Is anyone else fed up with new OS and Office adjustments?
My Pixarian friend Stephanie had arranged for our award-winning Ford Pinto racer to be included in the lineup. She and I were part of a 5-member team of lady Pinto racers in The 24 Hours of LeMons, held a few weeks ago at the Altamont raceway.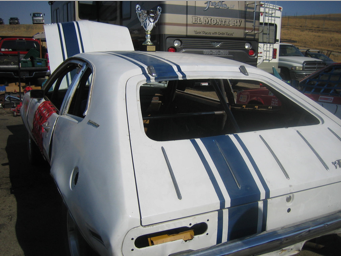 I had a great time recounting our adventures in the race to Jay Ward, the art department manager for Pixar's Cars, and the recently released Ratatouille. Jay is one of those people in the Bay Area you want to meet if you're interested in old hot rods and customizing, and he organizes the Motorama among other local car-related events. John Lasseter consulted with him and a few other Pixar gearheads throughout the development of Cars, which is why you'll see such accurate details on the film, even down to the bias ply tires on the older cars.
After taking in the display on the lawn and polishing off a Mister Softee ice cream cone, I wandered up inside the hallowed walls of Pixar with my guide and pal Steph, past the video game corral, lunch cafe, and freebie cereal stations, up to the 2nd floor, where an art gallery of the latest feature film is on display. Large format paintings, sculptures, storyboards, and animation art cels from Ratatouille line the walls (sorry, no photos allowed), giving the viewer a visual story behind Pixar's development of the film. Stephanie explained to me how the hand-sculpted model forms for the rats (all of them made by just three Pixar artists) are scanned in 3D, giving each character a new computer life awaiting further details of movement, light, shading, and coloring. Anyone who's seen a Pixar film knows that the studio focuses on developing CG characters, whether they be race cars or a freshly shorn lambs, with human emotion, realistic facial and body expressions, and real environments that take 3+ years to craft and develop as intended for supporting the story.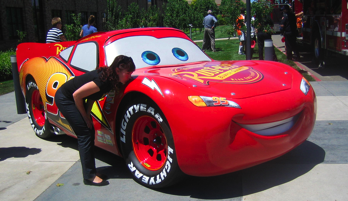 On the other end of the floor, dubbed the "Upper Westside," one corner wall is dedicated to the fine craft of movie-making Pixar style. The step-by-step display shows how it's all done: from the "pitch" and the storyboarding and character creation, to the set dressing and animation, and the final post-production and rendering. It's a fascinating process and I just noticed you can "viewfind" your way through it online now too.
Well, lunch hour being over, I headed back to the office. Just a quick car ride down 6th St. from Emeryville to Berkeley and it struck me again just what a unique creative computing community we have--our authors, who contribute to the education of many artists using 2D and 3D tools such as Painter, Photoshop, Illustrator, Maya, and LightWave; independent and studio filmmakers; animators; visual effects artists; and the multitude of creatives who work in small, specialized shops throughout the Bay Area. I can't think of anywhere else that technology and art comes together in quite the same way as it does here.
We also really love our cars here too.