You can send text messages to any phone directly through iChat.
To do this, add a Buddy to your list and instead of the name, type +1 in front of the phone number, including the area code even if it's local. Don't put any spaces in the number.

If you already have this Buddy in your list, make a new and separate entry for this person—the info will be stored in the "Mobile Device" section of your Buddy List.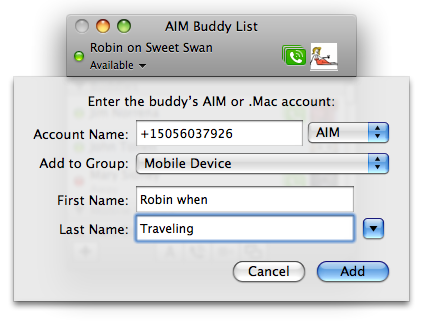 Check back here each day this week for more Mac OS X Leopard tips.
And for more on Mac OS X 10.5 Leopard, be sure to check out my books
Mac OS X 10.5 Leopard: Peachpit Learning Series,
The Little Mac Book, Leopard Edition,
and
Robin Williams Cool Mac Apps: Twelve apps for enhanced creativity and productivity, Adobe Reader, 3rd Edition.