You may not know it, but there's more going on than meets the eye when you run an Automator workflow. Did you know that Automator tries to help out when one action's result type doesn't match the next action's input type?
Rather than just displaying an error, in some cases, Automator will try to convert the result type to the correct input type, so the workflow will keep running successfully. It does this by looking for a conversion action, and running it, if found.
For example, the Find Songs in iTunes action has a result type of iTunes songs, and the Create Archive action has an input type of Files/Folders. However, when you run these two actions together in a workflow, it will still work. This is because Automator runs a conversion action that changes the iTunes Songs to Files & Folders.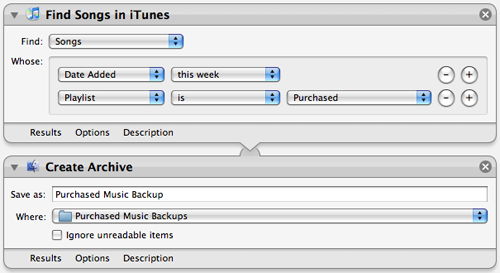 Conversion actions don't appear in Automator's list of actions. They just "happen" when your workflow runs. To prove that they exist, you can select View > Log from the menu bar to display Automator's log area.

Here, all of the steps that occurred when your workflow ran will be listed, including any conversion actions.

For more on Automator, check out my book Automator for Mac OS X 10.5 Leopard: Visual QuickStart Guide, as well as my video podcast series Mac Automation Made Simple.
And be sure to check back here each day this week for more Automator tips.