If you're like me, then you probably save tons of documents in PDF format via Mac OS X's print window.
Did you know that you can configure an Automator workflow to process those printed PDFs? It's easy.
1. Create or open an Automator workflow.
2. Make sure that the first action in your workflow accepts Files/Folders as input. For example, if you want the PDF to be saved to your Desktop and renamed, you might insert the Move Finder Items action, followed by the Rename Finder Items action.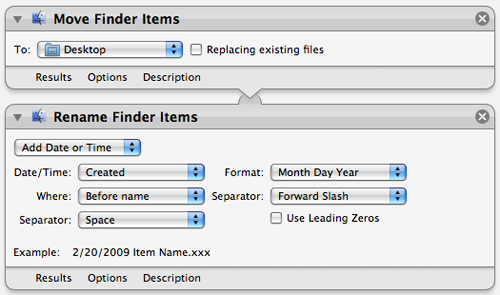 3. Select File > Save As Plug-in from the menu bar.
4. Enter a name for your workflow, and choose Print Workflow from the Plug-in for popup.
5. Click the Save button.
6. To run the workflow, just select your workflow from the PDF popup at the bottom of Mac OS X's print window from within any application. When you do this, the current document will be saved in PDF format, passed to your workflow, and processed.
For more on Automator, check out my book Automator for Mac OS X 10.5 Leopard: Visual QuickStart Guide, as well as my video podcast series Mac Automation Made Simple.
And be sure to look back over the other Automator tips I've done this week.