Save up to 50%


Stock up on books, eBooks, and video training

Savor life with photography—to tell stories, to communicate the complexity of a given moment, and to convey the mood of a particular scene with just the right lighting. Whether you're shooting your first landscape or are a pro looking for advanced guidance or inspiration, Peachpit's books and videos—from the industry's leading photographers, such as Scott Kelby, Roberto Valenzuela, Jay Maisel, Lindsay Adler, David duChemin, and other—will help you master the craft of creating beautiful images. Take advantage of our Photoshop World post-show sale to stock up, now through August 9.
Save on Photoshop World 2016 best sellers and more
Buy 1, Save 35% | Buy 2, Save 45% | Buy 3+, Save 50%
Use discount code BESTOFPSW during checkout*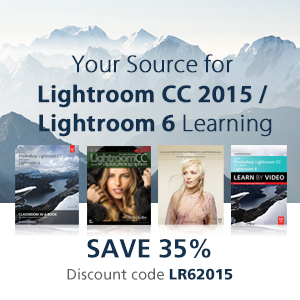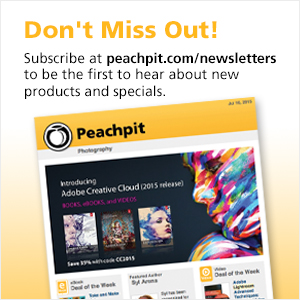 * Sale prices displayed reflect 50% discount achieved with purchase of three or more eligible titles and application of discount code BESTOFPSW. Discount code BESTOFPSW confers a 35% discount off the list price of one, a 45% discount off the list price of two, or a 50% discount off the list price of three or more eligible titles purchased on peachpit.com in a single transaction. Eligible titles include most print books, eBooks, and full-course videos (DVDs or online videos). Discount not valid on Book + eBook bundles, Book/eBook + Video bundles, non-discountable products, Safari Books Online, or any title featured as eBook Deal of the Week or Video Deal of the Week. Discount code may not be combined with any other offer and is not redeemable for cash. Discount offer expires 11:59 p.m. EDT August 9, 2016. Offer subject to change.