Home > Store > Digital Photography > Workflow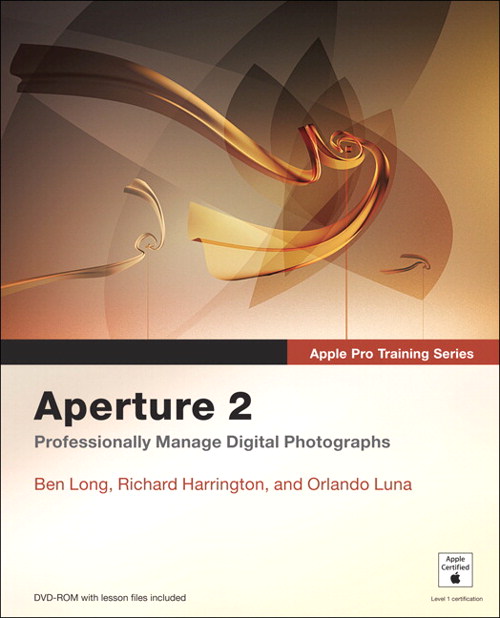 Apple Pro Training Series: Aperture 2
Book
This product currently is not for sale.
Copyright 2008
Dimensions: 7-3/8 X 9-1/8
Pages: 512
Edition: 1st
Book
ISBN-10: 0-321-53993-1
ISBN-13: 978-0-321-53993-9
Fully updated for Aperture 2, this comprehensive book-DVD training combo starts with the basics of image management and takes you step by step all the way through Aperture's powerful photo-editing, image-retouching, proofing, publishing, and archiving features. Aperture 2's new features are completely covered, including a new RAW-image processing engine, a streamlined interface, powerful new adjustment tools, and added integration with Mac OS X and other Apple products for instant web publishing and one-click portfolio syncing. Apple Pro Training Series: Aperture 2 delivers comprehensive training - the equivalent of a two-day course - in one project-based book. You'll learn time-saving techniques for sorting, ranking, and organizing images, effective methods for correcting and enhancing images, plus efficient ways to display images for client review, apply metadata, update your online portfolio automatically, and much more. Real-world exercises feature professional photography from a variety of genres, including photo-journalism, sports, wedding, commercial, and portraiture. All the files you need to complete the exercises are included on the DVD.

Errata
Page 183, Chapter 5, the book states: "For more information about color-calibrating displays, see Appendix B, 'Calibrating Your Aperture System.'" The reference is to Appendix B of the Aperture User Manual. Please refer to your User Manual appendix for more information on calibrating your system.
CD-ROM fixes
Lessons 5, 8–11 have Aperture projects (rather than folders of images). Please follow the instructions and use File > Import > Projects to import the projects. (Pressing Command + I will not work.)


ONE MONTH ACCESS!
WITH PURCHASE
---
Get unlimited 30-day access to thousands of Books & Training Videos about technology, professional development and digital media If you continue your subscription after your 30-day trial, you can receive 30% off a monthly subscription to the Safari Library for up to 12 months.