Home > Store > Adobe Photoshop > Workflow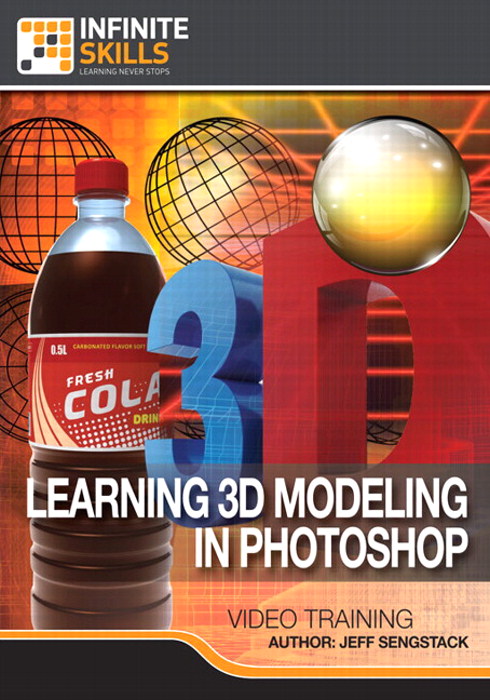 Share
|




Register your product to gain access to bonus material or receive a coupon.
Learning 3D Modeling in Photoshop
Downloadable Video
Your Price: $79.96
List Price: $99.95

Accessible from your Account page after purchase. Requires the free QuickTime Player software.

Videos can be viewed on: Windows 8, Windows XP, Vista, 7, and all versions of Macintosh OS X including the iPad, and other platforms that support the industry standard h.264 video codec.
Copyright 2014
Edition: 1st
Downloadable Video
ISBN-10: 0-13-374052-8
ISBN-13: 978-0-13-374052-3
In this training course for 3D Modeling in Photoshop, expert trainer Jeff Sengstack will show you how to use the 3D tools in Adobe Photoshop to create and render high-quality 3D models and animations. Photoshop is not just for editing photos any longer, the 3D tools that you have at your fingertips will allow you to quickly and easily create 3D models, and this video tutorial will show you how!

Jeff starts your Photoshop 3D training by showing you how to setup your workspace, and walking you through the camera and view controls, which are essential for building models. In this computer based training course, Jeff covers almost all of the 3D tools that are available to you in Photoshop, such as; creating 3D meshes using presets, using tools suck as deform, taper, inflate and shear to extrude objects. He also explains how to work with 3D text and setting and changing environments and scenes. You will learn how to add textures, adjust colors and shine, and how to use lighting with your models. You will combine Photoshop Video functions with 3D functions to create animation, learn where to get third party models, and how to use them, and finally, you will learn how to render and export your projects.

By the completion of this video training course for 3D modeling in Adobe Photoshop, you will be fully capable of creating amazing models using the tools that Adobe provides to you in Photoshop. You can create, animate, render and share your models with friends, family and the world! Working files are included, allowing you to follow along with the author throughout the lessons.
Table of Contents
01. Introducing 3D In Photoshop
0101 What You Will Learn In This Course
0102 Setting Up The Workspace And Preferences
0103 Organizing The Working Files
0104 Walking Through A Basic 3D Project
02. Working With The Camera And Move Tools
0201 Using The 3D Camera To Move The Ground Plane
0202 Using The Cage To Move A 3D Object
0203 Using The Widget To Move A 3D Object
0204 Using Numeric Values To Move A 3D Object
0205 Examining 3D Depth Of Field And Field Of View
0206 Using The Secondary View
03. Using The Create New 3D Object Panel
0301 Making 2D Layers In 3D Space
0302 Using Presets To Create 3D Meshes
0303 Using A Depth Map To Build A Mesh
0304 Extruding Text, Brush Strokes, And Shapes
0305 Adding Internal Constraints On Extruded Objects
0306 Using Deform To Twist, Taper, Bend, And Shear Extruded Objects
0307 Using Cap To Bevel, Inflate, Or Deflate Extruded Objects
0308 Making 3D Objects From Everyday Items
04. Working With 3D Text
0401 Extruding And Editing 3D Text
0402 Warping 3D Text
0403 Deforming 3D Text: Twist, Taper, Bend And Shear
0404 Using Cap Properties On 3D Text And Internal Constraints
0405 Splitting Text Into Individual Objects
0406 Distorting And Extruding Text
05. Adding And Editing Materials: Textures And Maps
0501 Reviewing Materials And Downloading Extra Sets
0502 Using Materials Presets
0503 Rendering Changes To Check Your Work
0504 Applying Diffuse Material Textures To 3D Objects
0505 Positioning Materials Using Overlays Or A Checkerboard
0506 Fixing Seams In Textures
0507 Adjusting Colors For Specular, Illumination, And Ambient Materials
0508 Adjusting Shine, Reflection, And Roughness
0509 Using A Bump Map To Give An Object Texture
0510 Adjusting Opacity And Refraction
0511 Giving A 3D Object An Environment Texture File
06. Setting And Changing Environment And Scene Properties
0601 Changing 3D Layer And 3D Object Ambient Colors
0602 Adjusting Image-Based Light Color Settings
0603 Using Adobe-Created And Custom IBL Texture Files For Illumination And Backgrounds
0604 Working With Standard And Custom Ground Planes
0605 Working With The Scene Cross Section Property
07. Using Lights
0701 Overview Of The Three Standard 3D Lights
0702 Using The Infinite Light
0703 Using The Point Light
0704 Using The Spot Light
0705 Using Multiple Lights And Lighting Presets
08. Merging Multiple 3D Layers
0801 Placing Objects In Stages/Sets
0802 Giving A Photo A Frame
0803 Creating A Glass
0804 Creating A Window Frame With Tinted Glass
0805 Merging Spheres For A Cross Section
0806 Using Cross Section To Place A 2D Or 3D Layer Inside A 3D Object
0807 Using An Opacity Texture File To Place A 3D Object Inside Another 3D Object
0808 Creating Shadow Catchers To Match Background Perspective
09. Using Third-Party 3D Models
0901 Checking Out Resources And Compatible File Types
0902 Opening Existing 3D Models In Photoshop
0903 Using The Vanishing Point Filter To Place Objects In A Scene
0904 Making Changes To Third Party 3D Models
0905 Dealing With Common Third Party 3D Model Issues
10. Animating 3D Objects Using Photoshop Video Features
1001 Introducing Keyframe Animations
1002 Working With Some Motion Animation Projects
1003 Moving The Camera And Lights
1004 Altering Material And Cross Section Properties Over Time
11. Rendering And Exporting Layers And Projects
1101 Performing A Final Still Image Render
1102 Exporting 3D Layers As Standard 3D File Types
1103 Exporting Animations As Video Files
1104 Exporting Animations As DPX And Photoshop Image Sequences
12. Acknowledgements, Bio, Resources, And Goodbye
1201 Acknowledgements
1202 Author Bio, Resources, And Goodbye
FREE

TRIAL WITH PURCHASE!
---
By completing any purchase on Peachpit, you get unlimited 15 day access to thousands of Training Resources on creative topics You will also get a discounted rate of just $17.99/month if you decide to continue with a paid subscription.
Other Things You Might Like


eBook (Watermarked) $28.79

By Dave Cross
eBook (Watermarked) $8.00