Home > Store > Digital Photography > Technique
Strobist Photo Trade Secrets Volume 1: Expert Lighting Techniques
By Zeke Kamm
Published Nov 11, 2010 by Peachpit Press. Part of the One-Off series.

Copyright 2011
Dimensions: 4-3/4 X 7
Pages: 52
Edition: 1st

Book
ISBN-10: 0-321-75287-2
ISBN-13: 978-0-321-75287-1
Register your product to gain access to bonus material or receive a coupon.
Product Author Bios
Edited by Zeke Kamm of Nice Photography Magazine and Trade Secret Cards (http://www.tradesecretcards.com/). Trade Secrets Cards's mission is to bring condensed, tangible, useful information written by industry and trade icons to consumers in the form of trading cards with the intention of educating and inspiring the end user.

Photographer David Hobby is the popular blogger behind Strobist.com. The Strobist website and community is about one thing: Learning how to use off-camera flash with your DSLR to take your photos to the next level. Or the next ten levels.
Video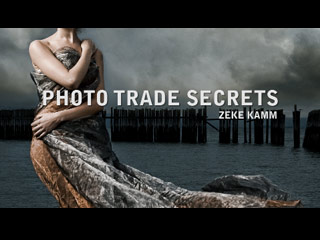 You need to upgrade your Flash Player. You need version 9 or above to view this video. You may download it here. You may also see this message if you have JavaScript turned off. If this is the case, please enable JavaScript and reload the page.
Learn to light your photographs creatively using small flashes and other lighting gear with 24 inspiring examples from contributors to David Hobby's famed Web site, Strobist.com. On the reverse side of each photo you'll find a lighting diagram and helpful tips. Tear out individual cards and take them with you for quick reference on your next shoot.

Strobist Photo Trade Secrets volumes 1 and 2 are all about giving you the inspiration and tools to help make your photographs the best they can be. It doesn't take hundreds of pages of instructions or piles of complicated theories to take great photographs. Photo Trade Secrets use microlessons—each with a simple-to-understand diagram, tips, and a clear description accompanying an inspiring image—so you can spend less time reading and more time shooting.

Photo Trade Secrets postcard books are high-quality trade paperbacks, with perforated pages of thick card stock—so you can simply tear them out and take individual microlessons with you when you shoot.

Whether you duplicate the photos in the book or use the techniques as a takeoff point for creating your own dynamic family photos, killer commercial shots, or eyecatching masterworks, you'll find Photo Trade Secrets to be the fastest, most fun and effective way to take your photography to the next level.

Grab your Photo Trade Secrets and get out there and shoot!


Customer Reviews
64 of 69 people found the following review helpful
Overpriced
,
December 11, 2010
By
Conrad J. Obregon
(New York, NY USA) -
See all my reviews
This review is from:

Strobist Photo Trade Secrets Volume 1: Expert Lighting Techniques (One-Off) (Paperback)
The Strobist blog has achieved an almost legendary status amongst photographers concerned with using flash to take pictures. Now the Strobist seems to be moving into the print field with "Strobist Expert Lighting Techniques: Photo Trade Secrets Vol. 1" by Zeke Kamm.
The book consists of twenty-four six and one-half by four and three-quarters inch photographs from individuals who have contributed to the Strobist site. On the back of each photograph is a lighting diagram to show how one or more flashes was used to illuminate the image. The pages are printed on heavy cardboard, and can be torn out of the book, supposedly to take along for quick reference.
The pictures themselves are all of high quality and most photographers would be happy to have taken any of them. Unfortunately all one gets is a great image and a lighting diagram. There is nothing to instruct you as to any of the settings involved or any of the theory behind any of the photographs. For example,...
Read more
15 of 15 people found the following review helpful
It's all about the lighting...
,
December 25, 2010
By
Thomas Duff "Duffbert"
(Portland, OR United States) -
See all my reviews
This review is from:

Strobist Photo Trade Secrets Volume 1: Expert Lighting Techniques (One-Off) (Paperback)
When I see cool pictures, I always wonder how they pulled that off. More often than not, it's a matter of lighting. Zeke Kamm presents a series of images along with the lighting configurations in his book Strobist Photo Trade Secrets Volume 1: Expert Lighting Techniques. This isn't a huge book with lots of detail. Instead, it's a series of images with the lighting set-up explained on the other side. You'll be able to read through the whole book in about 20 minutes, but it will give you hours of material for trying out some of your own ideas based on what you read.
This is best targeted at someone who's already comfortable around their camera, and who has a couple of detachable strobe flashes to play with. With those in hand, you can take a shot at most of the items pictured here. You could also take the idea and concept for a particular shot and try your own take on it. Fortunately, the setups don't require thousands of dollars of professional gear to pull off, so...
Read more
14 of 15 people found the following review helpful
perfect for photographers of all levels
,
December 11, 2010
This review is from:

Strobist Photo Trade Secrets Volume 1: Expert Lighting Techniques (One-Off) (Paperback)
What a great tool for ANY photographer, amateur or professional, to study up on some really useful lighting tricks of the trade. The photographs are beautiful and the diagrams that expose the lighting tricks behind the beautiful images are simple and straightforward. I would highly recommend this book for anyone looking to try some different approaches to lighting amazing photographs.
Share your thoughts with other customers:
›
See all 26 customer reviews...
Online Sample Chapter

Buy
eBook (Watermarked)  $19.99  $15.99
Includes EPUB, MOBI, and PDF
About eBook Formats
This eBook includes the following formats, accessible from your Account page after purchase:

EPUBThe open industry format known for its reflowable content and usability on supported mobile devices.

MOBIThe eBook format compatible with the Amazon Kindle and Amazon Kindle applications.

PDFThe popular standard, used most often with the free Adobe® Reader® software.
This eBook requires no passwords or activation to read. We customize your eBook by discretely watermarking it with your name, making it uniquely yours.
Purchase Reward: 15 Day Trial to Creative Edge
By completing any purchase on Peachpit, you become eligible to try out
Creative Edge
free for 15 days.
Get unlimited online access to thousands of training resources on creative topics. You will also get a discounted rate of just $17.99/month if you decide to continue with a paid subscription.
Other Things You Might Like