Road to Seeing
New Riders to Publish Book by Photographer Dan Winters
"My purpose in writing this book is rooted in a desire to share, on a human level, some of the moments in my life that have significance to me as a photographer, and as a man." — Dan Winters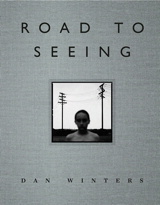 SAN FRANCISCO, CALIF— December 11, 2013 — An immensely respected and award-winning photographer, Dan Winters is well known for an impeccable use of light, color, and depth in his evocative images. In Road to Seeing (New Riders, December 19, 2013, $79.99), Winters shares his journey to becoming a photographer, as well as key moments in his career that have influenced and informed the decisions he has made and the path he has taken. After beginning his career as a photojournalist for a daily newspaper in southern California, Winters moved to New York to begin a celebrated career that has since led to more than one hundred awards, including the Alfred Eisenstaedt Award for Magazine Photography and a first place World Press Photo Award.
Though this book appeals to a wide photography audience, it speaks directly to the student of photography (whether enrolled in school or not) and addresses such topics as creating a visual language; the history of photography; the portfolio; street photography; personal projects; portraiture; and the need for key characteristics such as perseverance, awareness, curiosity, and reverence. The book covers a broad range of topics and genres of shooting, from early photojournalism in the mid-'80s to photo essays published this year, from early portraiture work in New York to personal projects that continue to grow and evolve in Austin, where he now resides.
Road to Seeing features hundreds of photographs, including many by those who have influenced and inspired Winters on his journey. Placed alongside the author's work, together they convey the profound sense of connection that Winters feels to the genre, and they demonstrate the wonder that Winters experiences when contemplating the power of the image. "Photographs are one of mankind's most profound expressions of stillness," says Winters. "They allow us the ability to hold time in our hands and facilitate a merging with time that exists in no other form."
Road to Seeing is now available at Amazon, Barnes & Noble, Peachpit, and other retailers worldwide. For more information, visit www.peachpit.com.
About Dan Winters
Dan Winters is a photographer well known for his celebrity portraiture, photojournalism, and illustrations. He has won numerous awards including the World Press Photo Award, and his work has been featured in the New York Times Magazine, the New Yorker, Vanity Fair, GQ, and Rolling Stone. His previous books include Periodical Photographs, Last Launch, and Dan Winters's America: Icons and Ingenuity. He divides his time between Austin, Los Angeles, and Savannah. See his work online at danwintersphoto.com.
About New Riders
New Riders is an imprint of Peachpit and part of Pearson (NYSE: PSO), the international media company. Pearson's primary operations also include the Financial Times Group and the Penguin Group. Learn more at www.peachpit.com and www.pearson.com.
Road to Seeing
By Dan Winters
New Riders - December 19, 2013
ISBN-13: 978-0-321-88639-2 - $79.99 - Hardcover
###
Media Contact:
Laura Ross, Senior Publicist
Peachpit, New Riders
Laura.J.Ross@pearson.com